Henson talks opioid epidemic with Lions Club
Thursday, May 3, 2018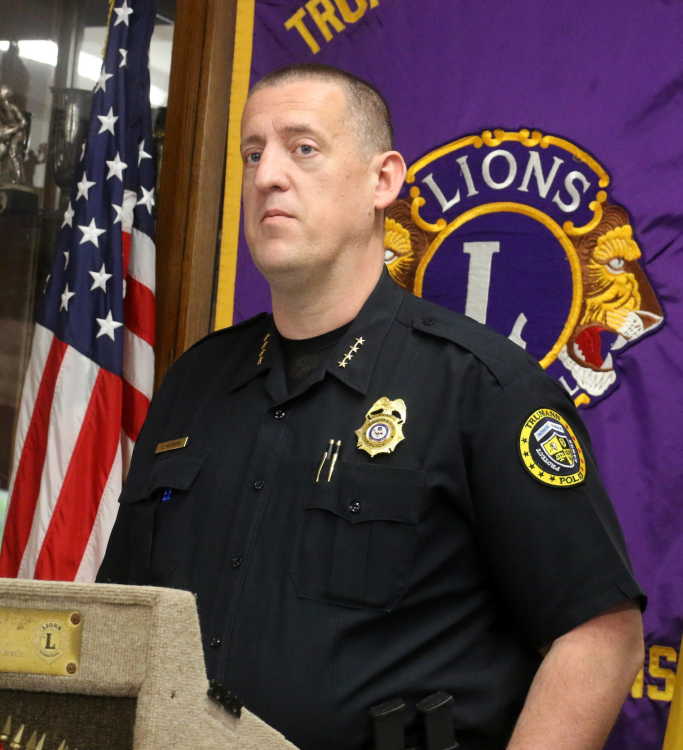 Trumann Police Chief Chad Henson was on hand to speak to the Trumann Lions Club last week about the opioid epidemic.
Henson told the group that opioids are heroin in pill form. Some drugs that are opioids are hydrocodone, oxycodone, fentanyl, and morphine. "We've been battling this epidemic for the last three years," Henson said. Henson told the group that Arkansas is number two state in the county that prescribes these pills. "We have a lawsuit ongoing with those who prescribe and dispense these pills. Trumann does not have anybody named in the lawsuit. We are doing things the right way," Henson said.
"We were told a lie about how addictive the pills were and how many were being prescribed," Henson said. Henson said that Poinsett County is number five out of the 75 counties in prescribing these pills. It was crack cocaine in the 1980s, followed by meth and meth labs, and now opioids. Henson gave an example of the breakdown of the drug's worth. "A kilo of cocaine runs about $20,000. A kilo of marijuana is about $1,200. If you break the opioid pills and made a kilo, the value would be $1,000,000," Henson said. He said a person usually gets 90 pills for a 30 day prescription and will sell them for anywhere between $5-80 per pill.
"I'm yelling for people to wake up about opioids," Henson said. Henson said a majority of break-ins now are those looking for what's in the medicine cabinet instead of televisions, DVD players, or other personal items. "Please come talk to us if you have any questions about this drug. We are here to help the citizens of Trumann," Henson ssid.
Henson spoke briefly about the recent shooting at the Walmart in Trumann. "I wish it was a day that we didn't have to have happen. I feel the most for the young lady who was held captive, the six-year old little girls, and the 60 or so employees and people in the store that had to witness the event," Henson said.
Henson also spoke briefly about internet safety. "I urge you to watch what your kids are doing online. Kids are being bullied on social media at all hours of the day, and child predators are always on the lookout for their next victim," Henson said.