Memorial events set for County Commemorative Day
Monday, May 14, 2018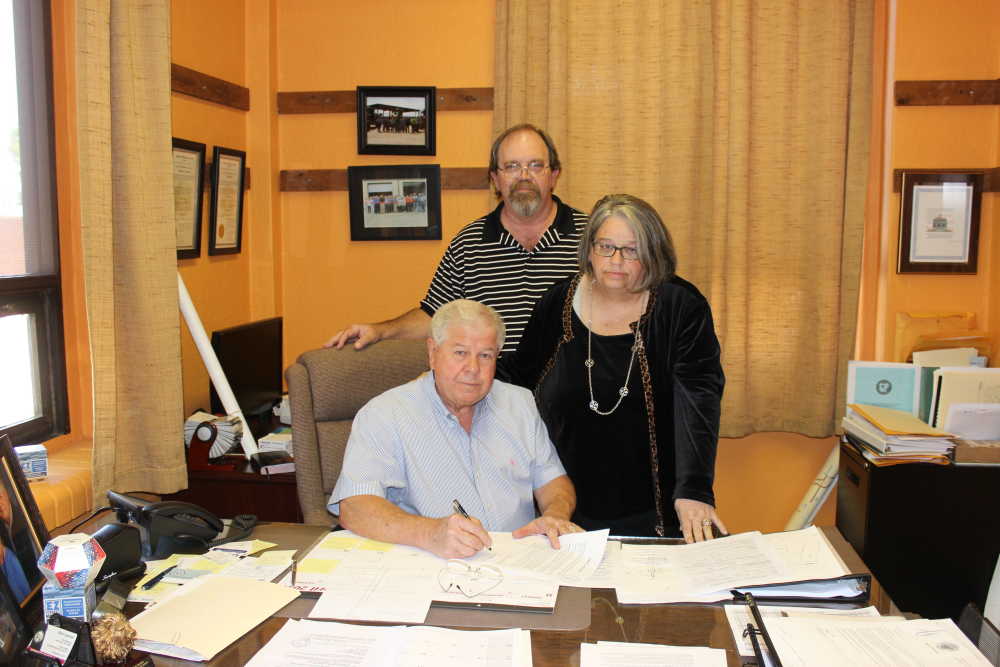 The Poinsett County Judge's Office and Poinsett County Historical Society (PCHS) have teamed together to host a County Commemorative Day on Friday, May 25, around Court Square in downtown Harrisburg.
The events for the day will begin at 10 a.m. on the east side of the Poinsett County Courthouse.
PCHS Executive President Curtis Sanders and County Judge Bob Cantrell began working together several weeks ago to find the right time and days for several events that needed to take place, according to Sanders. "We (PCHS) have had a new Civil War Historical Marker that needed to be placed at the courthouse for more than a year now, and timing has just been bad to have it placed," said Sanders.
County Judge Bob Cantrell applied to get a WWI memorial tree early this year, and the county received confirmation from the state that it would receive the tree early in May, according to Cantrell. This tree needed a dedication ceremony as well.
Cantrell has also been working to get the courthouse grounds cleaned and looking nice for more than two years in preparation of having a 100th year celebration of the courthouse.
"I suggested instead of having three different events, why don't we find a day that we can do them all together and make it a big downtown party?" said Sanders, and Cantrell was in agreement. So Sanders, PCHS Director Sylvia Evans, Judge Cantrell, and the Judge's Assistant Tina Price began planning all three events to happen on the same day. Price said the perfect day would be the Friday before Memorial Day weekend.
"We want this to be about our veterans," said Cantrell. "That's why we waited until after the preferential election to have it. We do not want it to become a political event. Just a celebration and remembrance time for our veterans."
The day will begin with the tree planting and dedication at 10 a.m. east of the courthouse. The tree will be planted in the Courthouse Annex yard. Poinsett County Veterans Officer Terry Long will dedicate the tree and sprinkle special soil from the Meuse-Argonne American Cemetary in France around the tree. Following that dedication, the event will move to the northwest corner of the courthouse yard where a new Civil War Historical Marker will be unveiled and dedicated.
Following that dedication, Cantrell will have some other comments about the courthouse and the county's new designation as a Purple Heart Community.
First National Bank and Food Giant will provide food for the day, and David Owens from Unico Bank will be on hand to cook. The refreshments will be served at 11 a.m.
Everyone is invited to come out, help celebrate, remember county veterans, and dedicate these monuments to them.