Lady Warriors get first ever state tournament win
Thursday, May 17, 2018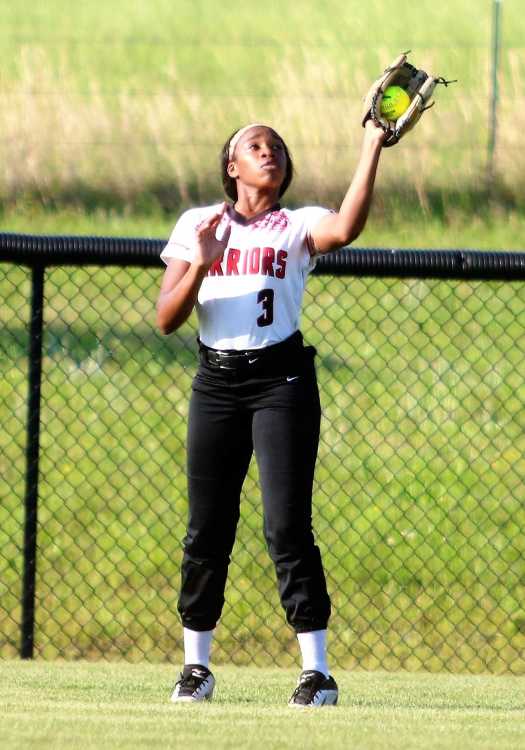 The EPC Lady Warriors (25-7) held on for a 7-5 win over Pangburn in the opening round of the Class 2A state softball tournament this past Friday in Pangburn.
Keragan Gordon grounded out leading off the game for EPC as Meagan Allen followed with a single. Madison Wiggins flew out before Jordyn Brewer watched strike three go by for the third out. The Lady Tigers took a 2-0 lead thanks to a two-run home run. The Lady Warriors got on the board in the top of the second inning as Taylor Hannah singled leading off and advanced to second base on a passed ball. Kaylee Hood and Emili Mangrum both watched strike three go by. Bre Ward reached on a bunt single as Hannah sneaked home on the play to make it 2-1 Lady Tigers. Ward was caught trying to steal third base for the third out. Pangburn went three up and three down in the bottom half of the inning.
Kurstin Bryan walked to lead off the third inning as Gordon followed with a single. Allen's ground out scored Bryan making it 2-2 before Wiggins doubled to plate Gordon to give EPC a 3-2 lead. Brewer grounded out and Hannah popped out to leave Wiggins on base. The Lady Tigers got runners on first and second with outs before a strikeout left the runners stranded to keep the score 3-2 Lady Warriors. Hood led off the top of the fourth with a single for EPC as Mangrum followed with a walk. Ward walked to load the bases before Hood scored on a bunt single from Bryan to make it 4-2. Gordon's sacrifice play plated Mangrum to make the score 5-2 as Allen walked. Wiggins reached on a fielder's choice that forced Ward at home plate as Brewer singled to plate Bryan and Allen making it 7-2 Lady Warriors. Wiggins was caught trying to make it to third base on the play for out number three. Pangburn got a runner on with one out only to leave them stranded as the score stayed 7-2 EPC after four innings of play.
Pick up a copy of the May 17 PCDT for full game story!