Frankie Raney
Wednesday, May 23, 2018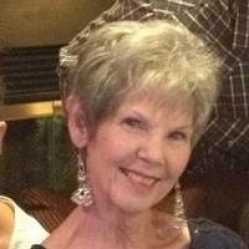 TEXAS - Frankie Lee Raney, 70, entered Heaven's gates after a six year battle from breast cancer on May 20th, 2018 at Baylor White Scott Hospital in Grapevine. She was born in Jonesboro, Ark. on January 16, 1948 to the late Utah Calvin and Anna Terry Cooper. A graduate of Trumann High School class 1965, shortly after, attended Tuckers Beauty College completing her cosmetology certification. Frankie said "I do" to Eddie (Lloyd) Raney, February 22, 1968. She gave birth to her first born, Stephanie, on her 21st birthday. February of 2018 they celebrated 50 years of marriage, sticking together for more than 5 decades. She was known by grandchildren, nieces and nephews as "nana". If you needed help or had a question, everyone knew to ask her, that she'd know what to do. A devoted and loving wife, mother and homemaker, Frankie enjoyed gardening and was an excellent southern cook. She was known for her famous chocolate pie. Her home was always open to loved ones that needed a place to stay, eat or a little front porch therapy. Frankie had an unwavering faith in God. From a young age, she was involved in church activities and even a volunteer Sunday school teacher. A long-time member at Carrol Baptist of Southlake and later The Village Church. Despite her battle with cancer, she cared for her brother the last 10 years with love and compassion. She will be remembered for her feisty personality, elegant yet funky style and boundless creativity. Beautiful, caregiving heart and soul with ever-ending fighting spirit. Frankie was preceded in death by one daughter, and her parents.
Frankie is survived by her loving husband of 50 years, Ed Raney of the home; two daughters, Stephanie Hills of North Richland Hills, Tex. and Paige Leija of Tropy Club, Tex.; two sisters, Carolyn Kelly and Traci Cooper; one brother, Calvin Cooper; three grandchildren, Jacob Guillon, Elizabeth Castro and Cooper Leija and three great-granddaughters, Abigail Castro, Aislinn Castro and Melody Guillon.
The family wishes to thank all of those who have known Frankie in her glorious journey of life to celebrate with us.
Viewing will be held on May 23rd between 5:00pm and 9:00pm at J.E. Foust & Son Funeral Home, 523 S. Main St., Grapevine, Tex. 76051.
A celebration of her life will be Friday, May 25th at 2:00 p.m. in the chapel of Thompson Funeral Home in Trumann, Ark. with Rev. Larry Loggins officiating. Private burial will follow in Oaklawn Cemetery.
Visitation will be Friday afternoon from 1:00 p.m. to 2:00 p.m.at Thompson Funeral Home, 220 Viva Drive in Trumann, Ark., 72472.
Memorial donations in lieu of flowers may be made to the Human Coalition at https://www.humancoalition.org/frankieraney or checks can be made payable to Human Coalition memo line: Frankie Raney Address: 2401 Ira E. Woods, Suite 300 Grapevine, TX 76051