Memorial Day observed in Trumann
Friday, June 1, 2018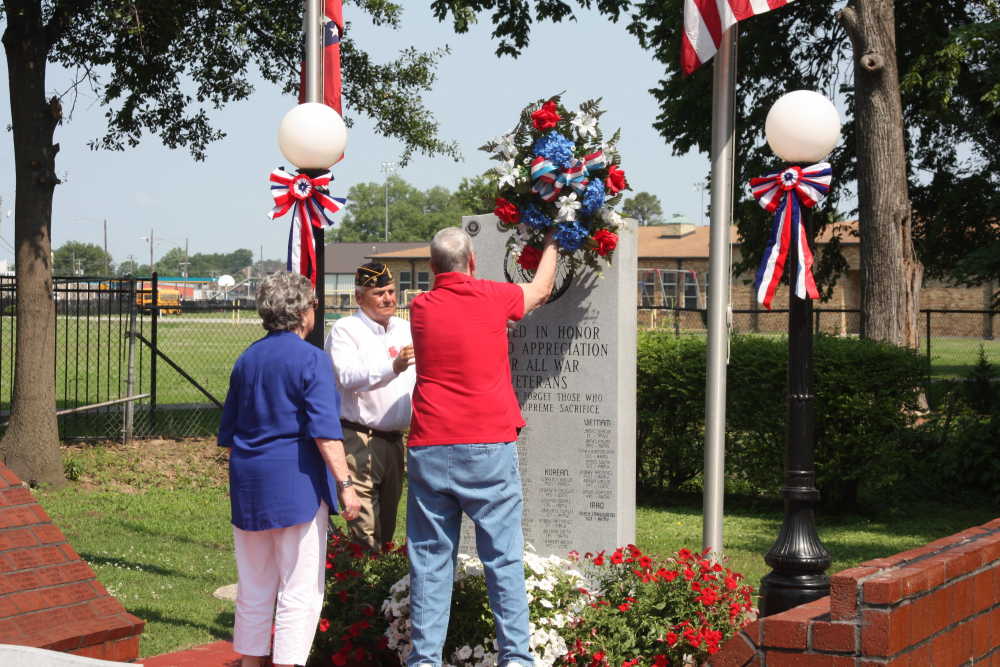 Communities members gathered at the American Legion Memorial Park in Trumann to observe Memorial Day.
This year, the American Legion passed out poppies for everyone to wear. According to Ron Taylor with American Legion Post 42, poppies used to be passed out during the ceremony to raise money for the Ladies Auxiliary. The act of wearing poppies on Memorial Day was started in honor of those who died in World War I. The practice was inspired by the John McCrae poem "In Flanders Fields," written in 1915. As this year marks the 100th anniversary of the end of WWI, Taylor said it felt appropriate to wear poppies during this year's ceremony.
Col. Clarence Overbay, who is in his second year as JROTC instructor at Trumann High School, served as guest speaker. Col. Overbay said that it was time for Americans to reconnect with their sense of history. He said more than one million people in this nation have died in military conflicts dating all the back to the colonial wars. "Each person lost was a loved and cherished family member and community member. And each one was a huge loss to their family and community," Overbay said.
Col. Overbay said that many Americans have lost a sense of history and that all many know about military service comes from television and movies. "We have fewer and fewer veterans to share their story, and many older veterans don't talk about their service," Overbay said.
Overbay spoke about his father-in-law, who served in the 86th Infantry Division as a scout during World War II. He originally trained for amphibious landing in Japan but ended up fighting in France and the Phillipines. "When he was discharged, he had five sons and one daughter," Overbay said. "Before he was drafted into service, he was a minister. But he did not use that as an excuse not to serve. In fact, he served in the infantry as a point man."
Overbay said his father-in-law would not discuss the war until he was in his mid-80s. "I told him to think about the lives he saved as a Christian, and I think that was the only thing that gave him solace. He wasn't killed in the war physically, but mentally, it affected him."
Overbay called on those gathered to not forget the sacrifices made by soldiers and said it was important to help reconnect the American people to the American soldier. "We in this country owe a great debt of gratitude to those who have served, and we can start paying back that debt by remembering what they did," Overbay said.
Betty Payne also spoke briefly. She said it had been 50 years since her husband, James Payne, died in Vietnam. After he died, Payne said the city put up a flagpole on the spot where the future memorial park would be, and the community began gathering for Memorial Day then. "The citizens of Trumann have been coming here and gathering for 50 years, and I hope you will continue to gather for the next 50 years," Payne said.