Willow Shaw
Wednesday, June 6, 2018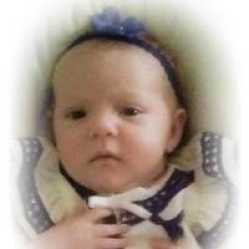 JONESBORO - Willow Marie Shaw, infant daughter of Zelie Edward and Rethea Goza Shaw III, departed this life Monday, May 28, 2018 in Jonesboro, Ark., at the age of 3 months and 7 days. She was born Wednesday, February 21, 2018 in Jonesboro and was also known by Willow Bit and Willow Tree. Willow was preceded in death by great-grandparents, Zelie and Jennie Shaw I, and Mildred Bain Crisp.
Survivors include her parents; one brother, Wyatt Shaw, her grandparents, Charles and Becky Goza of Jonesboro, Zelie and Angie Shaw II of Kosciusko, Miss., Kevin and Melissa Mitchell of Mountain View, Ark.; great-grandparents, Charles Goza of Jonesboro, Shirley Goza of Wynne, Jimmy and Dovie Goza of Jonesboro, Harry and Mary Blakely of Belzoni, Miss., Teddy and Crickett Sims of Sidon, Miss. and Alpha Lee of Greenville, Miss.; special adopted grandparents, John and Betty Haag; several aunts, uncles and cousins, and special aunts and uncles.
Funeral services were held June 2 in the chapel of Thompson Funeral Home with Rev. John Maley officiating. Burial followed at Pine Log Cemetery in Brookland, Ark. Pallbearers were Preston Duboise and Brandon Todd.
Memorials may be made to First Baptist Church, P.O. Box 575, Trumann, AR 72472.
An online guest book can be signed at www.thompsonfuneralhome.net.