Emerson speaks at Lions Club about changes at Country Mart
Monday, June 11, 2018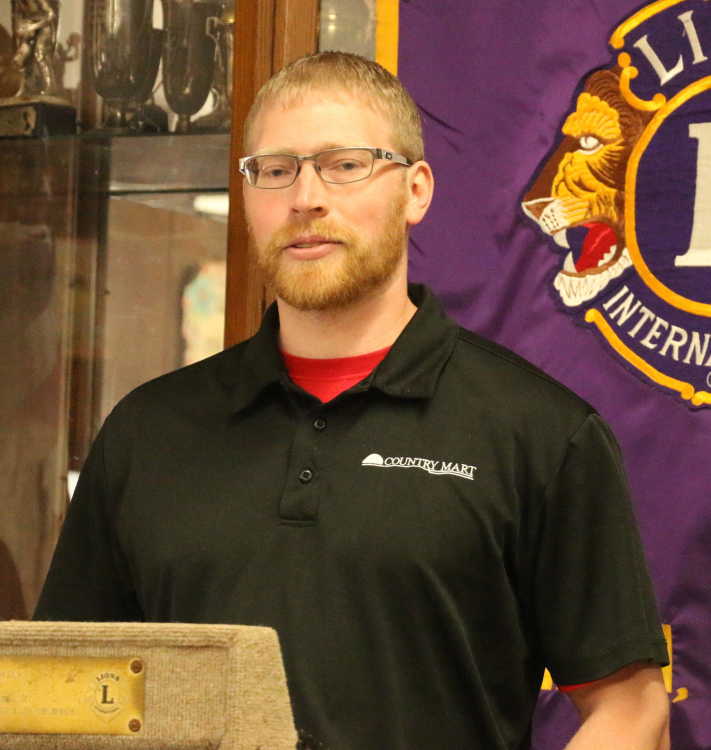 Chad Emerson, manager of Country Mart in Trumann, was the guest speaker last Wednesday for the Trumann Lions Club.
Emerson told the group he has been the manager at the Trumann store for almost a year. Having been in retail since he was 16, Emerson said he started in Piggott and then moved to the Jonesboro location when he was 20 to manage the meat department before coming to Trumann. "I'm happy and excited to be here in Trumann," Emerson added.
Emerson said that after a year's time, the store is starting to looking good. "Country Mart has 40 stores in our chain, and Trumann was in the bottom five of those stores. We've spent $100,000 in fixing up the store," Emerson said. The store has new LED lights throughout after having 180 light bulbs out when Emerson took over the store. "I had to throw away almost $10,000 worth of stock that was out of date or no good. We now have new freezers and new meat cases. The store is much cleaner and our sales have steadily increased since Jan. 1," Emerson said. Emerson thanked those in attendance who shop at his store and asked they continue to shop local.
Emerson told the group that Country Mart is 100 percent employee owned. "When you shop at Walmart, your money goes to the corporation. When you shop with us, you help our employees even more." Emerson said that 90 percent of Country Mart employees own stock in the company. The Trumann location has 40 employees who work the two shifts at the store. The store is also good about hiring school kids who are old enough to work.
The store has a hot deli seven days a week with chicken being made every day. Friday is fish day at the store, and they also serve breakfast starting at seven each morning. "If you do want to come for breakfast, I'd come a little after seven. We have about 20 people from Roach Conveyors every morning come over and get breakfast as soon as we open," Emerson said. The store also has a bakery with a cake decorator available to do special orders.
"We will stay very competitive with our pricing. If you've not been in the store lately, I invite you to come by and see the changes we've made," Emerson said.