Louise Hall
Tuesday, June 12, 2018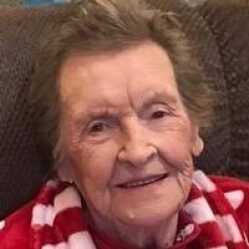 MOREHEAD, KENTUCKY - Mrs. Louise Gertrude Hall, 95, departed this life Wednesday, June 6, 2018 in Frenchburg, Ky. She was born Thursday, September 14, 1922 in Newport, Ark., to the late Roy and Lucille Bailey Soward. She was a seamstress and a member of Nettleton Baptist Church. Mrs. Hall was preceded in death by her husband, Jefferson Eugene Hall; three brothers, Leroy Soward, Sidney Soward and Nathan Soward; two sisters, Sue Bell, Billie Flanagan and Fayon Wilson and her parents.
She is survived by one daughter, Dorma Hastings of Nashville, Tenn.; one sister, Wilma Jean Slinkard of Fayetteville, Ark; three grandchildren; six great-grandchildren, two great-great-grandchildren and several nieces and nephews.
Graveside services were held June 9 at Marked Tree Cemetery with Steven Rutherford officiating. Burial followed in Marked Tree Cemetery in Marked Tree, Ark.
An online register book can be signed at www.thompsonfuneralhome.net.