Sherman Henderson
Tuesday, June 12, 2018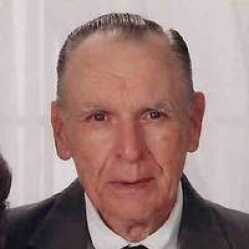 TRUMANN - Mr. Sherman Edward Henderson, 90, departed this life Thursday, June 7, 2018 at Lakeside Nursing Home in Lake City. He was born Monday, November 7, 1927 in and a lifetime resident of Trumann. Mr. Henderson was a retired employee of Singer Company and Delta Wood Products and a member of Assembly of God Church. He was preceded in death by his wife, Uneta Frances Henderson and his parents, Ruben and Addie Toy Henderson.
He is survived by two daughters, Darene Pungercar and husband Mark of Knoxville, Tenn., and Darenthy Henderson and husband Bill of Brookland, Ark; one son, Larry Henderson and wife Neva of Trumann, Ark; five grandchildren and 10 great-grandchildren.
Funeral services were held June 11 in the chapel of Thompson Funeral Home in Trumann, Ark., with Rev. Jon Fears and Rev. Danny Horton officiating. Burial followed in Jonesboro Memorial Park Cemetery in Jonesboro, Ark.
Pallbearers were Sam Fears, David Thompson, Tim Horton, Kenny Horton, and Rick Leathers.
An online register book can be signed at www.thompsonfuneralhome.net.