William Whitmire
Thursday, June 21, 2018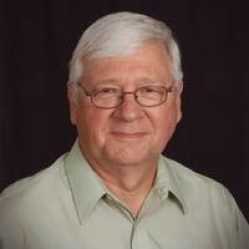 TRUMANN - William "Sonny" Whitmire, 72, moved to his heavenly home on Friday, June 15, 2018. He loved his Savior, his family, his friends, and his country. He was born in Strawberry, Ark. and lived most of his life in Trumann and Jonesboro.
William was retired from Hytrol Conveyor and was also a retired Army veteran. He also served as a member of American Legion Post 42. William was an active member of Nettleton Baptist Church, serving in choir and sharing the story of Jesus during his many years teaching 5-year-olds in Sunday school. His loyal service to others was one of his most endearing traits.
He enjoyed learning and was fortunate to have opportunities to travel as well as explore his heritage through genealogical research. William was preceded in death by his parents, Maida Turner Whitmire and Grant Edward Whitmire, both of Trumann, and a sister, Glenda Whitmire Martinez, of Corpus Christi Texas.
He leaves behind a family who love him and will miss his laugh and comforting voice. William is survived by his wife, Sandra Cragg Whitmire, of the home; son, Nathan (Allison) Whitmire, and daughter, Amy (Alan Cheshier) Whitmire, all of Jonesboro; son, Seth (Mandy) Whitmire, of Trumann and daughter, Laura (Todd) Spires of Washington Ill.; brother, Edward "Pete" Whitmire of Bradenton Flas, and sister, Royce Thompson, of Machesney Park Ill. William also leaves behind grandchildren Samuel, Mary-Emma, Larkin, and Will Whitmire, all of Jonesboro, and Henry and Rachel Spires of Washington Ill. In addition, he will also be leaving behind many nieces and nephews who were very precious to him.
Funeral services were held June 20 at Nettleton Baptist Church with Pastor Stan Ballard officiating. Burial was private at Arkansas State Veterans Cemetery at Birdeye, Ark.
Honorary pall bearers for the service were the children of William's Sunday school classes over his years of service at Nettleton Baptist Church.
In lieu of flowers, anyone wishing to leave a lasting memorial may contribute to the children's programs at Nettleton Baptist Church or may contribute to funding student school lunches for the underserved in their local community.
An online register can be signed at www.thompsonfuneralhome.net