Monk visits local youth basketball camp
Thursday, June 21, 2018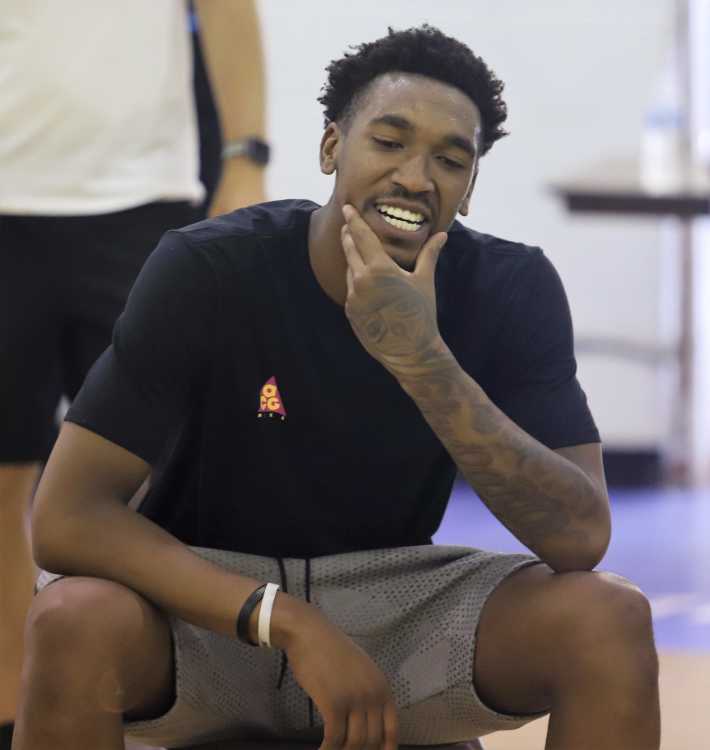 Not many kids have a chance to meet a professional athlete. The hundreds of kids that attended the High Five Camp this past Monday at Valley View got to do just that. Lepanto native and current Charlotte Hornets basketball player Malik Monk visited with each age group for a question and answer session before having pictures made and signing autographs for the kids.
"It's always good to back home and to be able to spend time with the kids. I was in there place just a few years ago. It's great to be able to give back and possibly help the next kid follow their dream," Monk said.
Monk averaged 22 points a game is freshman year leading the Warriors to the Class 2A state finals and a runner-up finish in 2013. Monk played his sophomore, junior and senior years of high school basketball at Bentonville high school where he helped lead the Tigers to back to back state finals appearances his junior and senior seasons, finishing as runner-ups both times. Being recruited by several colleges, Monk chose to play ball at Kentucky for coach John Calipari.
After helping lead the Wildcats to the NCAA tournament, Monk declared for the NBA draft in hopes to see his dream come true. Monk's dream did come true as the Hornets selected him with the 11th pick in the draft. Monk played in 63 games this past season but did not see a start all season. He averaged 6.7 points, 1.4 assists and 1 rebound a game while averaging 13.5 minutes per game. Monk shot 36 percent from the floor and 34.2 percent from the three-point line. Monk has a season high 26 points in a 137-100 win over Orlando in April. "The NBA experience is great and crazy. It was nothing like I expected. I learned a lot over the year. Monk's game steadily improved down the stretch and has him looking forward to next year. "I'm ready to hit the gym and get ready for my second season," Monk said.
Monk said the thing he needs to work on the most during the off season is strength conditioning. "The guys are so strong in the NBA. I had an ankle issue that kept me from full workouts, but now I'm healthy and ready to get stronger," Monk said. When asked what the biggest difference from college to pro ball, Monk replied, "These guys are grown men who have played for years. I just turned 20 and still have the body of a kid. I'll get to where I need to be," Monk added.
Managing his time is something Monk says he has to work at constantly too. "I get pretty early every morning and workout. My days is done by noon so I have to manage my time wisely the rest of the day. I've had several of the league veterans help me with this," Monk said. Monk said Kyrie Irving has been the hardest to guard so far. "He's Kyrie! He can shoot, dribble and pass. He's the best I've played," Monk added. Asked what it's like playing against players he grew up watching, Monk smiled and said, "It's unreal. It's a dream come true to be on the same court with the players I watched on television growing up," Monk said.