Rage Fabrications holds grand opening
Friday, June 22, 2018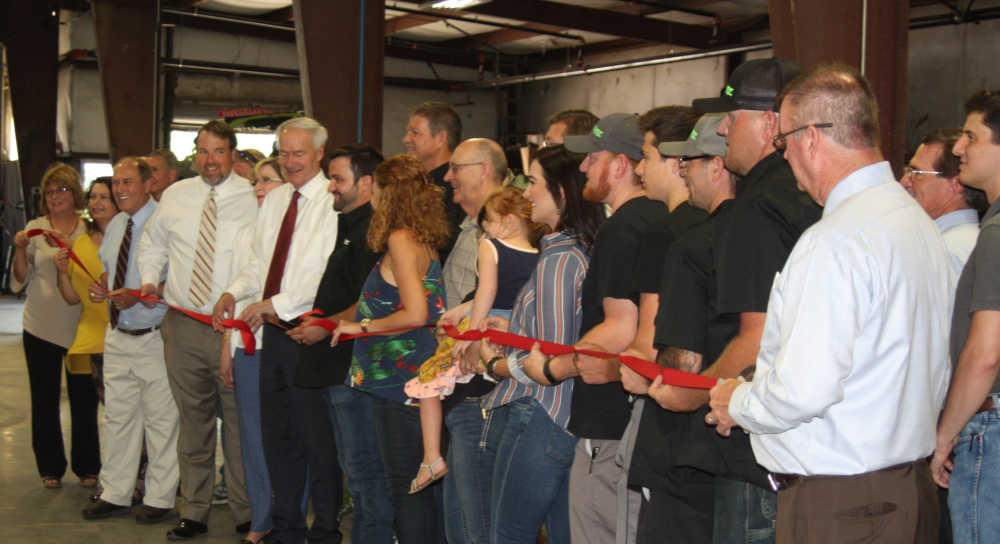 Trumann Director of Economic Development Neal Vickers said he was first approached by Ronnie Samuel in December of 2016 about expanding a new business he and his son Ian had started. And Monday morning a year and a half later, Rage Fabrications held their grand opening with Governor Asa Hutchinson in attendance.
The family business, Samuel's Auto Sales and Service, has been in Trumann for 50 years. When Ian started there, he ended up making a custom bumper for his UTV. After he posted a picture to Facebook, interest took off, and they ended running Rage Fabrications as a side business out of some of the vehicle bays at the auto shop. They make custom doors, hoods, roofs, and other parts for ATVs and UTVs and ship parts around the world. As demand grew, they quickly outgrew their location and started looking for a separate facility for Rage Fabrications.
With the help of resources from the the Trumann Industrial Development Commission and a $250,000 matching grant from the Delta Regional Authority, they were able to get new electrical lines and a sprinkler system put into a 15,000 square foot facility on Firestation Road.
DRA Federal Co-Chair Chris Caldwell said the DRA was excited to invest in economic development by expanding an existing business. "This is a family business selling worldwide right here in Trumann," Caldwell said. "That's something we like to brag on in Washington."
"This day represents entrepreneurship," Governor Hutchinson said, adding that the business represented a commitment to community and innovation. Speaking of creating new jobs in the state, Governor Hutchinson said, "We don't want to just support new industry coming in. We also want to support industries that already exist."
Samuel said the business helped create ten new jobs and that they expect to bring that number up to 20 in five years.