Roach honored for her military service
Friday, June 22, 2018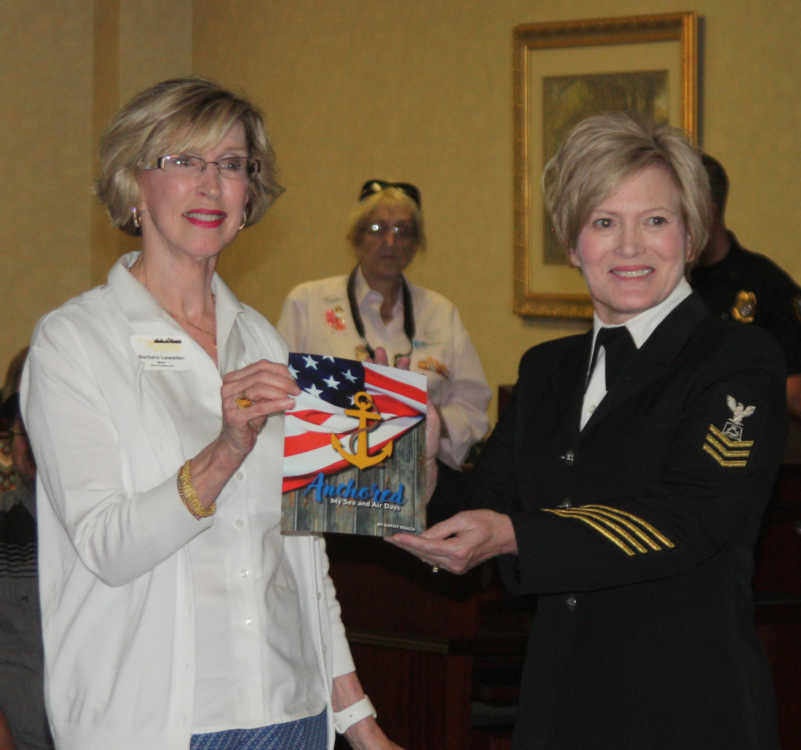 Roach Manufacturing employees, family, community members, and even the governor showed up to honor Kathy Roach for her service in the U.S. Navy Monday.
First Class Petty Officer Kathy Roach served in the Navy from 1979-2000, serving during the Cold War and First Gulf War as one of the first female sailors to serve on a Navy Warship, the USS Norton Sound AVM1 Missile Test Ship. Roach has written a soon to be published memoir called "Anchored: My Sea and Air Days" about her experiences. She referred to the title "Anchored" as representing how she had been all over the world before meeting her husband, G.W. Roach Jr., and finding a place to be anchored with him.
During a presentation Monday, Veterans Helping Veterans presented her with a framed certificate recognizing her years of service in the Navy. Several spoke during the presentation, including her husband, who said she was very proud of her military history. "She lost her parents at an early age," G.W. said. "Six years later, she was adopted by the Navy. At 38, she ended her military history because she met me." G.W. added that she was "a very loving, caring wife and a very big asset to the Roach family."
Governor Hutchinson thanked Kathy for her service and continued inspiration through her book. Of Roach Manufacturing, the governor said, "You continue to give opportunities to veterans, and that means a lot to the state," adding that "when they come back, they show--like Kathy--that they have more service left."
Kathy said the presentation was originally going to be a small affair, but as events lined up, she found out the governor would be attending as well and felt incredibly honored. She also promised to provide copies of her book to both Trumann Mayor Barbara Lewallen and Governor Hutchinson, as well as to the Trumann Public Library.