Anita Hendrix
Thursday, June 28, 2018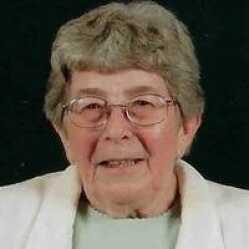 TRUMANN - Mrs. Anita Faye "Tootsie" Hendrix, 83, passed away on Thursday, June 21, 2018 at St. Bernards Medical Center in Jonesboro. She was born Saturday, September 8, 1934 in Caraway, Ark. to the late Floyd and Sybil Hickman Fisher and lived most of her lifetime in Trumann. Mrs. Hendrix was retired from Singer Company and ADT and a member of Pleasant Valley Baptist Church. She was preceded in death by her husband, Robert E. Hendrix, Sr.; one son, Tommy F. Hendrix; two grandsons, Tommy F. "T Tom" Hendrix, Jr. and Eric Kyle Hendrix; one sister, Brenda Fisher and her parents.
She is survived by one son, Robert E. Hendrix, Jr. and wife Sheila of Jonesboro; daughter-in-law, Mary Jane Hendrix of Trumann; two brothers, Ronnie Fisher and wife Anna of Denver, Colo. and John Fisher and wife June of Mt. Juliet, Tenn.; one sister, Polly Blanton and husband Jimmy of Mt. Juliet, Tenn.; two grandchildren, Jay Hendrix of Trumann and Ashley Hendrix of Harrisburg; four great-grandchildren, Kelcee Sitzer, Madeline Roach, Trace Fagan, and Brooklyn Mott; and several nieces and nephews.
Funeral services were held June 24 in the chapel of Thompson Funeral Home with Rev. Larry Loggins officiating. Graveside services were held June 25 in Nettleton Cemetery in Jonesboro.
Pallbearers were Jay Hendrix, Jerry Hendrix, Phillip Hendrix, Robert D. Hendrix, Ronnie Fisher and Johnny Fisher.
An online register book can be signed at thompsonfuneralhome.net