James Amick
Monday, July 2, 2018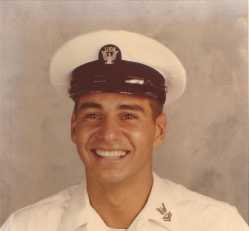 TRUMANN - James Robert Amick, 57, passed away Sunday, June 24, 2018 at the Flo and Phil Jones Hospice House in Jonesboro, Ark. He was born September 8, 1960 in Santa Cruz, Cal. to John M. and Dolores M.(Fuentes) Amick. He served in the United States Navy aboard the USS WM. H. STANDLEY CG-32, and, as an Operation Specialist, participated in Operation Eagle Claw with the Carrier Group Nimitz in the Persian Gulf during the 1980-81 Iran Hostage Crisis. He loved sports and was quite an athlete in baseball and football. He enjoyed the outdoors and hunting and fishing. He was an avid reader, especially military history, loved his family, and was lovingly referred to as "Pa Pa" by his grandchildren.
He was very receptive and appreciative of the visits and prayers from everyone.
Survivors include his wife of eighteen years, Mary (Oakes) Amick of Trumann, Ark.; mother, Dolores M. Walsh; three brothers, John, Daniel (Renee) and David (Norma) Amick; two sisters, Patty Amick- McGrath (Richard), and Gina Amick, all of Cal.; three children; four grandchildren; one great-grandchild, and a host of other family and friends. He was preceded in death by his father, John M. Amick.
The Family wishes to extend their thankfulness and gratitude to all the staff at St. Bernard's Hospice and St. Bernard's Flo and Phil Jones Hospice House, both of Jonesboro for their kind and loving support, and the outstanding efforts of Sherry Freeze and Brenda Wright for their grace and steadfast care.
Memorial services were held June 30 at Living Waters Pentecostal Church of God in Tyronza, Ark. with Pastor Gwen Hooker officiating under the direction of Faith Funeral Service in Manila, Ark. Guest registry: www.faithfuneralservice.net