Barry Tinker
Tuesday, July 10, 2018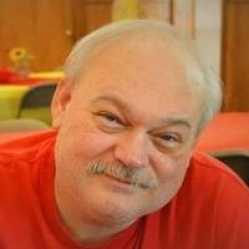 TRUMANN - Mr. Barry Lynn Tinker, 49, departed this life Monday, July 2, 2018 at St. Bernards Medical Center in Jonesboro, Ark. He was born in DeKalb, Ill., grew up near Walnut Ridge, Ark. and moved to Trumann 22 years ago. Mr. Tinker was a fork lift driver for Quad Graphics and a member of Pleasant Valley Baptist Church. He was preceded in death by his mother, Phyllis Ballard Tinker.
He is survived by his wife of 23 years, Dana Wells Tinker of the home; two daughters, Emily Tinker and Natalie Tinker, both of Trumann; his father, Donnie Tinker of Wisconsin and two brothers, Scott Tinker and Randy Tinker both of Alicia, Ark.
Funeral services were held July 6 at Pleasant Valley Baptist Church in Trumann with Rev. Larry Loggins officiating. Burial followed at Pine Hill Cemetery in Jonesboro.
Pallbearers were Rick Guimond, John Miller, Jeff Miller, Rodney Higdon, Phillip Higdon and Chris Higdon.
An online register book can be signed at www.thompsonfuneralhome.net.