Willistine Norris
Thursday, July 12, 2018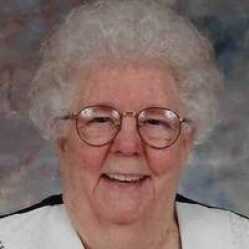 TRUMANN - Mrs. Willistine Kaler Norris, 94, passed away Sunday, July 8, 2018 at Flo & Phil Jones Hospice House in Jonesboro, Ark. She was born Saturday, June 21, 1924 and was a lifetime resident of Trumann, a retired factory worker, and a member of The Church of God in Trumann. She was preceded in death by her husband, Donald Marion Norris; four sons, Donald Norris, Marion Norris, Billy Norris and Jerry Norris; one daughter, Armeta Whitman; one brother, J.D. Kaler and sister-in-law Flora Kaler and her parents, John and Priscilla Elnora Rhodes Kaler.
She is survived by two daughters, Beady Lou Ragsdale of Jonesboro and Mildred Ann Delaney of Northport, Fla.; five sons, Danny Norris of Kenosha, Wisc., Eddie Norris of Payneway, Greg Norris of Jonesboro, Bobby and Dean Norris both of Trumann; 14 grandchildren and many great-grandchildren, nieces, nephews and a host of church families and senior citizen friends.
Funeral services were held July 11 at The Church of God in Trumann with Rev. Michael Jernigan officiating. Burial followed at Mt. Pisgah Cemetery in Jonesboro, Ark.
Pallbearers were Zack Norris, Devin Norris, Curt Norris, Ralph Guthrie, Bobby Hightower and James Evans. Honorary pallbearers were her Trumann Senior Citizens friends.
Online guest book can be signed at www.thompsonfuneralhome.net.