Vivian Huckabee
Monday, July 16, 2018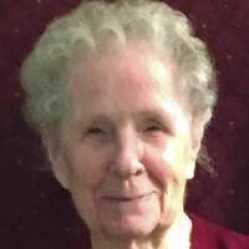 NASHVILLE, TENN. - Mrs. Vivian Huckabee, 96, departed this life on July 8, 2018 at the family residence. She was born Saturday, March 11, 1922 in Lake City, Ark. and was a homemaker and a member of Valley Baptist Church in Searcy, Ark. She was preceded in death by her husband, Cleo Huckabee; four brothers, one sister and her parents, James Willis and Ruth Jane Bryant Boling.
She is survived by three daughters, Linda Sue Huckabee Killgore of Nashville, Tenn., Janice Ruth Baxter of Little Rock and Tammy Kathrine (Davis) Simonton of Atoka, Tenn.; two sons, Theodore Ray Huckabee of Bonifay, Fla. and Jimmy Willis Huckabee of Bogart, Ga.; 16 grandchildren, Natalie Janice (Killgore) Langlinais, Robert Todd Killgore, Marianna Estelle Wilson, Gregory Landers Huckabee, Mark Joseph Huckabee, Sylvia Lynn (Huckabee) Beaulieu, Denise Huckabee, Daniel Huckabee, Troy Shannon Thomas, Tiffany Michelle (Thomas) White, Heather Suzanne Baxter, Clayton Houston Davis, Zackery Allen Davis, Joshua Martin Davis, Elizabeth Michelle (Simonton) Beilstein and Zachary Alexander Simonton, 33 great-grandchildren and 1 great-great-grandchild.
Funeral services were held July 14 at Valley Baptist Church in Searcy with Rev. James Hays officiating. Graveside services followed at Pine Log Cemetery in Brookland, Ark. under the direction of Thompson Funeral Home of Trumann.
An online register book can be signed at www.thompsonfuneralhome.net