Brenda Sartain
Wednesday, July 18, 2018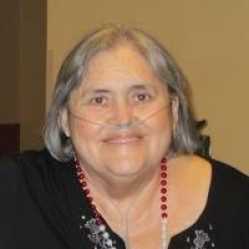 NEWPORT - Ms. Brenda Kay Sartain, 66, departed this life Tuesday, July 10, 2018 at Unity Health in Newport, Ark. She was born Friday, November 16, 1951 in Jonesboro, Ark. and had been a resident of Saint Michaelís Place Nursing Home in Newport for the past 6 years and was formerly of Trumann. She was in the care of Arkansas Hospice for the past 6 months. Brenda was a member of Parkview Missionary Baptist Church in Trumann. She was preceded in death by her parents, Morris Smith and Betty Branch and her grandparents, Houston and Hazel Dycus.
She is survived by one sister, Melissa (Skip) Nelson of Crandall, Tex.; three brothers, Ronnie Smith of Iola, Tex., Richard (Tammy) Branch of Gun Barrel City, Tex. and Rodney Branch of Paris, Tex.; one aunt, Carolyn (Bobby) Fletcher of Trumann; and one uncle, Melvin Dycus of Trumann.
Graveside services were held July 13 at Pine Log Cemetery in Brookland, Ark. with Rev. Bill Maxwell officiating.
Online guest book at www.thompsonfuneralhome.net