Anna Auberry
Tuesday, July 24, 2018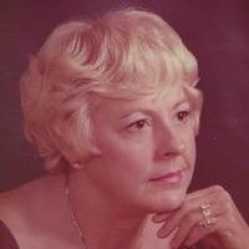 INDIANAPOLIS - Mrs. Anna Carter Auberry, 86, left this life Tuesday, July 17, 2018 at Methodist Hospital in Indianapolis, Ind. She was born Tuesday, December 15, 1931 in Trumann to the late Elmer Carter and Mae Wagner Williams. Ann lived most of her life in Indianapolis helping her late husband build a very successful law firm. She was a homemaker, loved working in her flower gardens, she was an avid pet lover, and adored her poodle Leon, and cat Tom. Ann will always be remembered as a loving wife, sister, and aunt.
Ann was preceded in death by her loving husband of 25 years Earl Auberry; her parents; sister Dorothy Hammell; Uncle Burley Wagner; two Aunts, Palestine Wagner Halfacre and Rosie Wagner Inzer.
She is survived by her devoted husband of 28 years, Malcolm Bruce Cuddy of the home; her brother and wife Gordon Avondale and Linda Williams of Trumann; her newphew and niece's who she loved as her own, Shaun (Jamie) Williams of Clarksville, Ark., Stephanie (Anthony) Patterson, Sherry Beth (Bill) Francis, Stephen Hammell of Trumann; great nephew and nieces, Kaytlin Patterson, Spencer Patterson, Adrianna Patterson, Evan Francis, Emma Beth Francis, Kylie Williams, Addison Williams, Nash Williams, Lee Hammell, Raven Hammell, Breanna Hammell, and two loving cousins Sue (Roger) Bullock and Eddie (Lisa) Halfacre.
A celebration of life service was held July 23 in the chapel of Thompson Funeral Home with Rev. Anthony Patterson officiating. Burial followed in Jonesboro Memorial Park Cemetery in Jonesboro.
Pallbearers were Shaun Williams, Spencer Patterson, Evan Francis, Bill Francis, Roger Bullock, and Eddie Halfacre.
An online register book can be signed at www.thompsonfuneralhome.net