Harrisburg's new police chief sworn in
Friday, July 27, 2018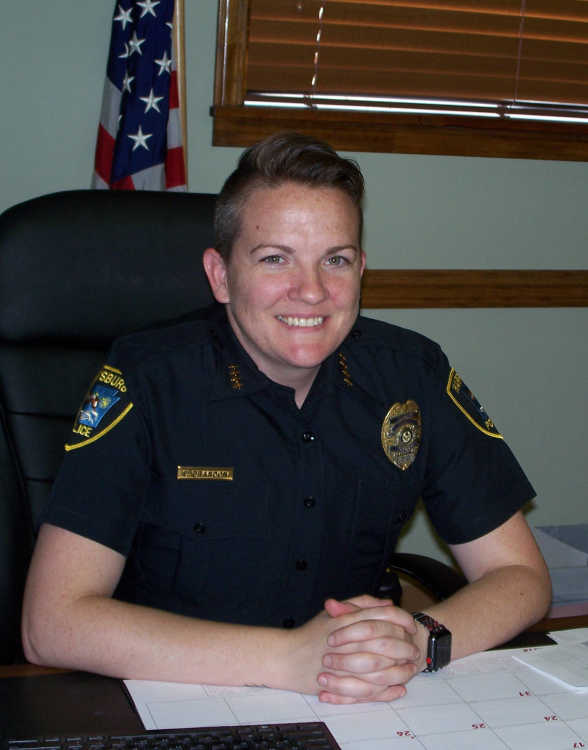 The city of Harrisburg officially has a new police chief. Chief Cassandra Brandon was sworn in last Friday.
Originally from Paragould, Brandon has lived in Poinsett County the last six years and has been in law enforcement for 13 and a half years. She started with the Jonesboro Police Department in 2004 and completed the Law Enforcement Academy at Black River Technical College in 2005. While with the JPD, Brandon was a patrol officer before working on the prowl unit, where she investigated street and vice crimes, for 5-6 years. Then she handled a narcotics detecting K-9, Mick, for five years, was sergeant over third shift patrol for a year, and was squad sergeant for the Criminal Investigation Division for two years. She was also in charge of the Citizens Police Academy and has done community outreach, recruiting, and administration for the department for the last couple years.
Brandon said she left the JPD on good terms in February to work for a software company that makes police reporting software. "After 13 years, it was intriguing to see life outside of law enforcement," Chief Brandon said. "I enjoyed the break, but I realized over time that I missed being a cop."
When the job for Harrisburg Police Chief came open, Brandon saw it as chance to "be part of something bigger than myself. I got into law enforcement because of a sense of duty. I guess I never lost that sense."
Chief Brandon didn't always know she wanted to be in law enforcement. Before her career in law enforcement, she worked as a pharmacy technician while she was attending Arkansas State University. "I didn't know what I wanted to do," Brandon said. At the time, she had felt burned out on school and was looking for something a little more adventurous. She had police as customers and said when they would talk about their work, it sounded intriguing. Once she decided to get into law enforcement, she found she loved it.
Regarding the Harrisburg Police Department, Chief Brandon said, "I had a chance to meet all the officers, and we all want to see improvements. I see some improvements we can make fairly quickly." One big thing she mentioned was equipment. "I want to make sure they have the best equipment to do the job, do it right, and do it safely."
Chief Brandon also said she sees taking care of each other and taking care of citizens as a priority. "That's everybody's priority, keeping the community safe. There's a right way to do that, and that's what I want to see us do," she said.
"I'm very happy to be here and grateful to the mayor for putting his faith in me. I am very excited to be here," she said.