Maupin talks non-profit programs with Lions
Friday, July 27, 2018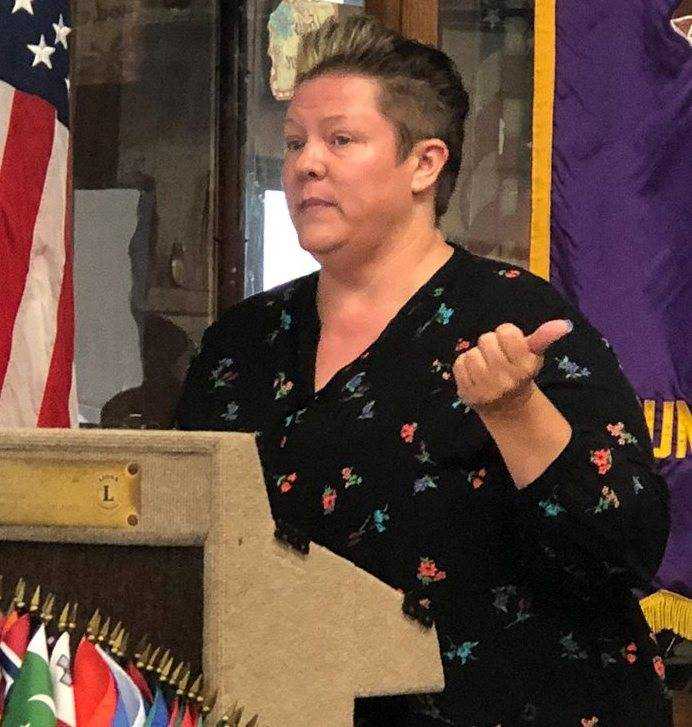 Mindy Maupin, non-profit programs with Southern Bancorp in Trumann, was the guest speaker at the Trumann Lions Club's meeting last Wednesday.
Maupin moved to Trumann from Helena to get better care for her autistic/special needs son who attends Nettleton School District. "That is reason I moved here, to get more services that will benefit my son," Maupin said.
Working for the non-profit program of the bank, Maupin said there are several programs that the bank offers. "We offer credit counseling, file taxes, business assistance, and we have a learning center just to name a few. We want to help people with their credit, as young and old have credit issues. There is also no charge for our non-profit services," Maupin said.
Maupin told the group that there is a kiosk at the bank that has information about all the services the bank provides. "You can get a free credit report, not a score, just a report that tells all your credit activity. I'd recommend doing this once a year just to see that no one is trying to steal your identity," Maupin said. She told the group of a case once where a person's identity was stolen by his dad, and it got to the point where he had to be issued a new social security number to establish new credit. Maupin said it's the only case she's ever heard of this happening. Stealing mail and phishing on the internet are two ways people try to steal someone's identity, Maupin told the club.
VITA (Volunteer Income Tax Assistance) is another program the bank offers. The bank will do your taxes and file them for you. "This is a great program for anyone who wants to take advantage of it. We did 120 tax returns this past year, and the banks did a total of 3, 262 returns that saw $5.8 million in returns and credits issued. This is a good program and is certified through the IRS," Maupin said. She has been doing the VITA program for 15 years.
"There are several programs that we offer that most don't know we have. We all work together at Southern Bancorp. Stop by and see us," Maupin said in closing.