Marion Whitehead
Tuesday, July 31, 2018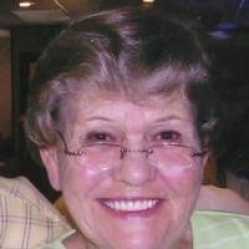 TRUMANN - Mrs. Elizabeth Marion Whitehead, 76, passed away on Friday, July 27, 2018 at Flo and Phil Jones Hospice House in Jonesboro, Ark. She was a Pharmacy Technician and a member of the Calvary Baptist Church. She was preceded in death by one daughter, Sondra Stotts Ader, and her parents, James J. and Mettie Lucinda Render Hollis.
She is survived by her husband of 54 years, Roy Whitehead of the home; one daughter, Sara (Blake) Culbreath of Jonesboro; one son, Jimmy (Kathy) Stotts of Trumann; one sister, Irma Kyle of Denison, Tex.; six grandchildren, Adam Stotts, Johnathan (Stephanie) Stotts, Kailyn Lamberson, Christian Culbreath, Callie (Neiko) Rawlings and Cainan Culbreath; and two great-grandchildren, Alma Stotts and Hollis Stotts.
A celebration of her life was held July 30 at Thompson Funeral Home with Bro. Ricky Dobbins and Bro. Austin Missey officiating. Private graveside service were held July 31 at Jonesboro Memorial Park Cemetery in Jonesboro, Ark.
In lieu of flowers, the family request donations to be made to Flo and Phil Jones Hospice House in Jonesboro, Ark.
Online guest book can be signed at www.thompsonfuneralhome.net.