Sheriff Molder talks sales tax
Thursday, August 9, 2018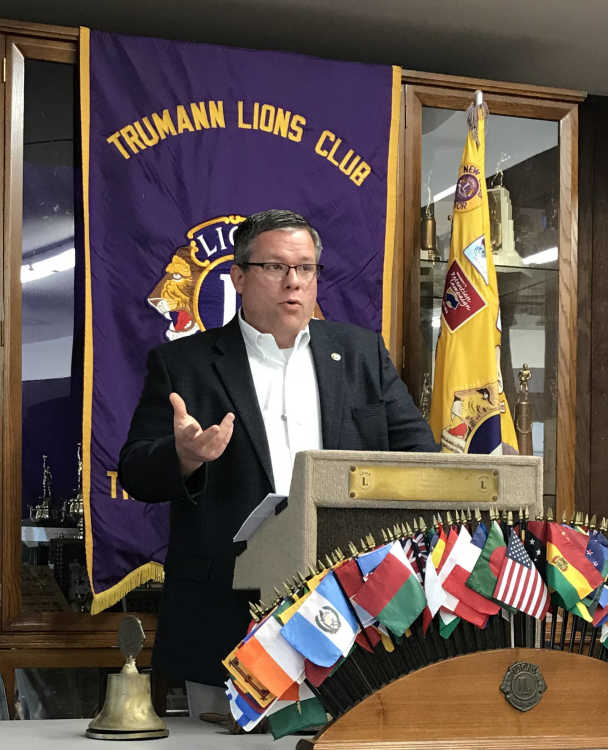 Poinsett County Sheriff Kevin Molder has been making the rounds discussing the one cent sales tax which will be on the general election ballot in November. Recently, he spoke to both the Trumann Lions Club and the American Legion in Lepanto about why he was asking for the tax, which will go toward the sheriff's office and detention center if approved by voters.
According to Sheriff Molder, the detention center opened 23 years ago in 1995. Back then, a half cent sales tax was approved with a quarter cent going toward building the detention center and the other quarter cent going toward maintaining it. After the detention center was paid for, that quarter cent fell off, leaving a quarter of a cent to pay for maintaining it in the meantime. As the detention center gets older, the cost to keep it running increases. "We knew we getting to this point because a quarter center has never been enough," Molder said.
Molder explained that because the detention center is a necessity, the county's general fund has been supplementing the sheriff's office and detention center's budget for years. "Everything inside the building is aging," Molder said. Last year, they had to spend $120,000 on a new chiller. Three years ago, they spent $9,000 replacing collapsed cast iron pipes, but there are a lot of iron pipes still in place. And more recently, the sewer line was backing up. He said they were able to move prisoners out of the block with sewer problems while repairs were made, which cost $38,500. But he also noted that the jail stays at capacity most of the time, and if repairs had required prisoners be moved to another facility temporarily, that can cost around $50 a prisoner, which adds up with over 100 prisoners.
Molder said maintenance to the detention center is necessary because they have to abide by jail standards. As an example, he said they are required to maintain a temperature between 65-75 degrees per jail standards. That meant when they were having problems with the chiller, they had to get it fixed or they could face lawsuits on behalf of the prisoners. "I have to abide by jail standards. I don't want Poinsett County to be sued every week," Molder said.
Molder said the detention center draining the county general and reserve funds also affects the sheriff's office. "We have an aging fleet of vehicles with $20,000 budgeted for parts and repairs," Molder said. So far this year, he said they have spent $18,000. "Our fleet is getting old, but we haven't been able to purchase new vehicles to keep up," Molder said.
Another cost Molder mentioned is outfitting deputies, which is around $1,300-1,500 each. The sheriff's office only has $5,000 budgeted for clothes and uniforms each year. Molder said when he took office, deputies had to buy their equipment. A pistol is around $450. Molder said for younger deputies, that $450 means a huge difference. Molder also said that when he took office, most of the deputies had expired vests. With donations from citizens, a deputy equipment fund was established to help equip deputies and make sure they didn't have to spend out of pocket for the equipment they needed.
Additionally, there are a lot of areas that have been overlooked because they are not a priority, like the carpet and ceiling tiles in the courtroom, which Molder said was not anticipated to be used as much as it is when it was built.
"We're facing so many challenges in law enforcement," Molder said. "We have really tried to work hard to combat our crime problem." Molder put together a drug task force in February, which he said has already made over 100 arrests. He said part of his focus has been to target drug dealers as many other crimes have their root in the drug problem. "I think we are all in this together, and I want you to know I'm not just trying to find a way to get money," Molder said.
Molder said everyone at the county level met at the beginning of the year and had to make budget cuts. He also praised County Treasurer Tammie Stanford for starting a county reserve fund because when she started, there were no reserves. But if the one cent sales tax doesn't pass at the end of the year, Molder said will have to make some very difficult cuts. "At some point in time, there is a time where you have to ask: if you were me, where would you cut?" he said.
Molder said the detention center staff is already at the minimum, and if staff is cut that lowers the population capacity. They have two people in dispatch, one of whom handles 911 calls and the other handles radio for the deputies. And the third staff area are the deputies, who respond when citizens need help.
"I didn't run for sheriff for the money. It's something I'm passionate about. I care about the citizens, and I care about this community. I want to progress, not go back," Molder said.
"I'm committed to you all regardless of the way you vote. I'm not going to change the way I do business. I want to make it a better county," Molder said.