Stanford gives update on county fair
Thursday, August 9, 2018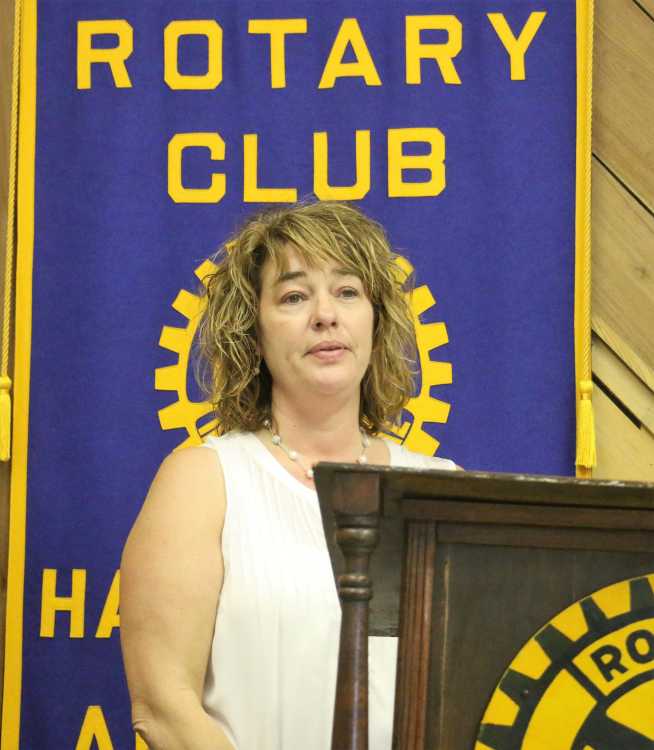 Tammie Stanford, secretary/treasurer of the Poinsett County Fair Board, spoke to the Harrisburg Rotary Club last Thursday about the events for the upcoming Poinsett County Fair to be held Aug. 14-18 at the fairgrounds in Harrisburg.
Sew It, Grow It, Show It is the theme for this year's fair with the first event being the Poinsett County Fair Queen Pageant, which will be held at 11 a.m. on Saturday, Aug. 11, at the Harrisburg High School Fine Arts Center.
The first day of the fair will be Tuesday, Aug. 14. The fair officially opens at 5 p.m. with carnival armband night being from 6-10 p.m. "You can buy your armbands at Circle K for $15, or they are $20 if you buy them at the carnival," Stanford said. Tuesday is the first of three armband nights this year. Rocky Clements will do a magic show, and The Eaton and DeLoach Band will be the musical guests for the night. Both are first-time performers at the fair. Three Trees Cowboy Church out of Wynne will have a mechanical bull at the fair Tuesday and hope to have a full rodeo at the fair in 2019.
Wednesday, the fair opens at 5 p.m. with Community Gospel Singing hosted by Three Trees Cowboy Church. Baked goods entries are accepted this night, and the rabbit and poultry will be judged too. Thursday will see the EHC Annual Rice Buffet at First Baptist Church Glissen's Center from 11 a.m. to 1 p.m. Carnival opens at 5 p.m. with the second armband night. Musical entertainment will be The Band Trippp, which features the children of Trey Stafford, to be followed by the Crafton Brothers Band. Livestock, except rabbits and poultry, are to be checked in this day.
Friday is School Agriculture Activities Day from 8:30 a.m. until 2 p.m. for first through third grades. "We already have 330 kids singed up to attend this," Stanford said. The fair opens at 5 p.m. with musical guests Cody Richardson and Triple Nickel. "Cody is a Harrisburg native who sings solo, and Congressman Rick Crawford sings for Triple Nickel. He's pretty good," Stanford added. The livestock will also be judged Friday.
The last day of the fair is Saturday with Tiny Rides and Little Rides races at 4 p.m. The fair opens at 5 p.m., and it's the last armband night. Musical entertainment will be Lil' Red with Angie Joiner followed by up and coming country artist Cory Jackson. This is Jackson's second year in a row to play the fair. Monday will be exhibit pick-up day from 8:30 a.m. to 11 a.m.
Johnson Brothers Rides will have 18 rides set up for the carnival this year. "These will be moveable rides, not bouncy houses," Stanford said. Stanford was asked about mosquito control and told the group that discussions are ongoing about the subject.