Olivia Brewington
Thursday, August 16, 2018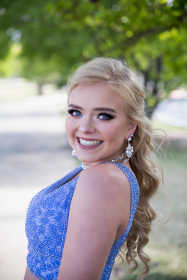 BENTON - Our beautiful, precious daughter and sister, Olivia Loren Brewington, 16, left this earthly life on Saturday, August 11, 2018 to be with her Lord Jesus Christ.
Born March 3, 2002 in Texarkana, Texas, without a speck of hair on her head and the vocals of a cheerleader, she brought a brightness to our lives with her sparkling personality. She was the prettiest baby her Adah Donnie had ever seen.
Olivia grew into a blonde-haired beauty with a loving heart, a unique style, and a fierceness that some might say was just plain hardheadedness. A true and beautiful soul, she touched the lives of all who knew her. She enjoyed hanging out with her closest friends, listening to music, taking photos, traveling, and shopping. Liv had a love for animals, rock band t-shirts, and all things tye-dyed. She didn't believe in dressy frills or wearing socks. She held firm to her faith and in living life to the fullest. To know her was to love her.
Liv would have started her Junior year at Harmony Grove High School in Haskell, where she was an honor student. Being active in many things, she was a member of the HGHS tennis team and a former cheerleader. Olivia was a member of Beta Club and the yearbook staff.
Olivia was preceded in death by her biological father, Aaron Pruitt Ellis, and her maternal grandfather Donnie "Adah" Haynes.
She leaves behind her dad and mom, Robert and Traci Brewington, and her "baby" sister Addison "Addie Boo" Brewington, all of Benton; maternal grandparents, Roger and Betty Steed, of Prescott; paternal grandparents, Ronald and Susan Brewington of Marked Tree; and great-grandmother Bernice Brewington of Tyronza. Aunts and uncles include Terrie (and Matt) Slatton of Delight; Don (and Brenda) Haynes of Prescott; Anna (and Chris) Smith of McKinney, Texas; Angela (and Scott) Ford of Jonesboro; numerous cousins and extended family. Olivia never met a stranger and leaves behind many, many dear friends.
Olivia had a positive vibe and an exuberant spirit that she leaves with all of her family and friends. We will carry her memory in our hearts forever.
A memorial service was held at Sharon Missionary Baptist Church in Benton on August 15. Arrangements were made with Ashby Funeral Home of Benton, Ark. Memorials may be made to Sharon Missionary Baptist Church in Benton or the Harmony Grove School District in Haskell.
On line guestbook at www.ashbyfuneralhome.com