Stephen Hardy visits Lepanto Senior Center
Friday, August 17, 2018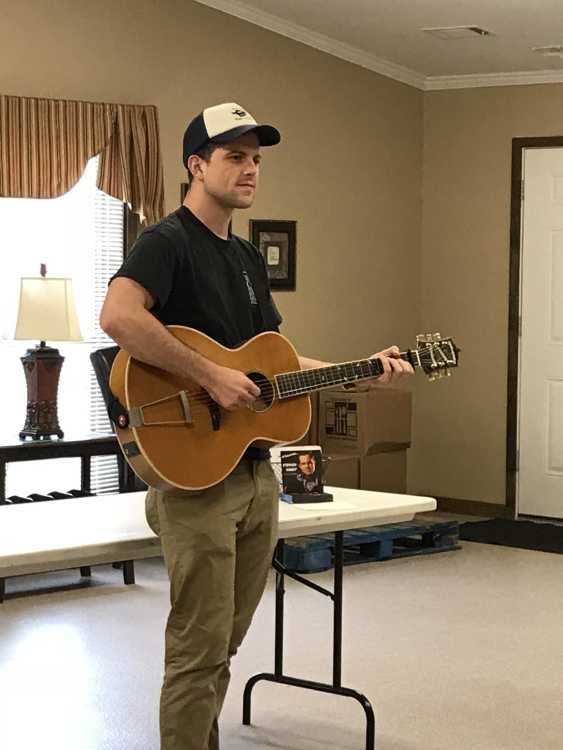 The Lepanto Senior Center got a special treat last Thursday as Stephen Hardy was on-hand to perform music. Hardy played songs by such performers as Johnny Cash, Hank Williams, and Carl Perkins, among other old favorites.
Originally from Brighton, Tenn., Hardy has lived in South Carolina the past 12 years. He came into contact with a few members of the Lepanto Senior Center when they saw him perform in "Million Dollar Quartet" at the Playhouse on the Square in Memphis. Hardy played the role of Johnny Cash in the musical about the gathering of Cash, Jerry Lee Lewis, Elvis Presley, and Carl Perkins at Sun Studio in 1956. According to Mary Slack, during this particular performace last year, the power was out in Memphis, so the cast performed all the songs acapella.
Since then, Hardy has been to this area a few times. He has played at the Johnny Cash Festival in Dyess and played at the Lepanto Christmas party last year. Slack is also hoping he will be able to come back to play during the Terrapin Derby.
Hardy said his role as Johnny Cash in "Million Dollar Quartet" has given him a chance to tour the country. He performed Million Dollar Quartet all over the south and got the chance to perform in California in May. While there, they were close to Folsom State Prison, where Johnny Cash recorded his album "At Folsom Prison," and Hardy got the chance to visit it.
Hardy also mentioned he had gotten a chance to play Hank Williams recently, for a show called "Lost Highway," and that he learned how to yodel for the role.
A year ago, Hardy recorded an album which he said was made up of a lot of old Sun Studio songs. "A lot of them are obscure songs I did my own take on, but it's still old country," Hardy said.
Hardy said that of the traveling he's gotten to do, his favorite place to visit was Memphis.