ASU's Drace tabbed for Ray Guy Award watch list
Thursday, August 23, 2018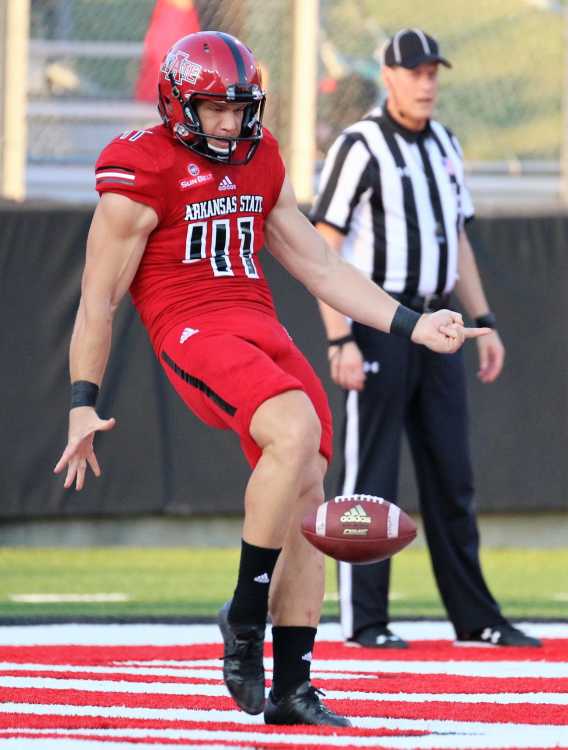 Arkansas State redshirt junior punter Cody Grace has been named to the Ray Guy Preseason Award Watch List.
Grace, a 2018 Preseason All-Sun Belt Conference Second-Team selection, did not allow a touchback during the entire 2017 season and saw 45 of his 49 punts go unreturned. He ranked 16th in the NCAA with a 40.9 net punting average and had 24 of his punts land inside the opponents 20-yard line. He also helped the Red Wolves punt defense average just two yards per punt return to lead the league.
The Perth, Australia native totaled 2,014 yards across his 49 punts and had nine punts travel 50 or more yards. He posted a season-high five punts inside the opponentís 20-yard line against New Mexico State and at least one in all 12 games. Grace was also named to the Lindyís and Athlonís Preseason All-Sun Belt Conference Second-Teams.
The Augusta Sports Council created the Ray Guy Award in 2000 to honor Thomson, Georgia native and College and Pro Football Hall of Fame inductee, Ray Guy. Among the statistics used to identify the winner is net punting average, number of times punt is downed or kicked out of bounds inside the opponents 20-yard line, total yardage punted, average returned yardage and percentage of punts not returned with particular emphasis placed on net punting average. The winner must display team leadership, self-discipline and have a positive impact on the team's success.