Hornets split games in football jamboree
Thursday, August 23, 2018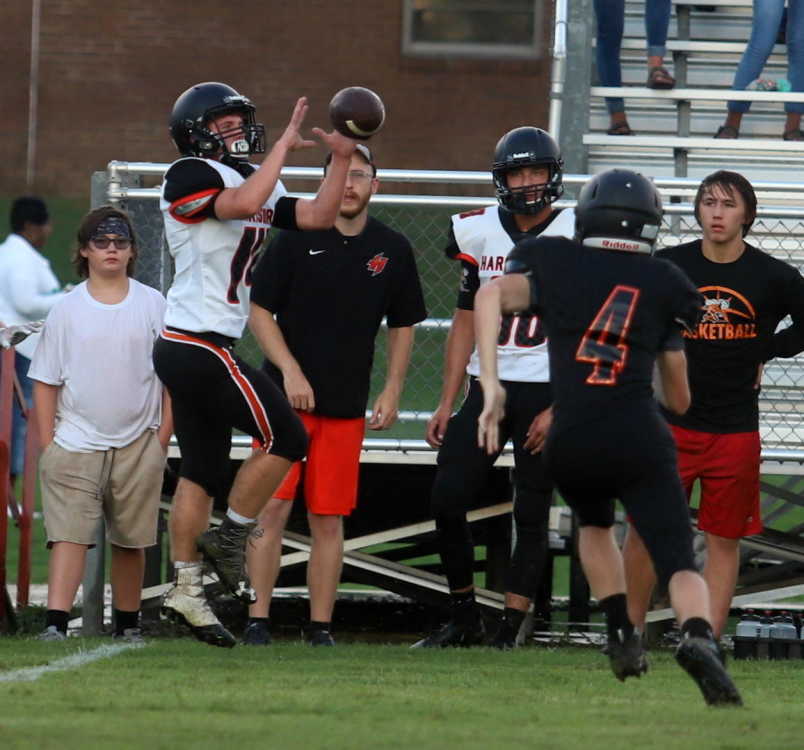 On a wet and dreary night in Palestine, the Harrisburg Hornets senior high football team played McCrory and Palestine-Wheatley in a football jamboree this past Monday in Palestine. The Hornets beat McCrory 6-0 in the first game before falling 6-0 to Palestine-Wheatley in the second game. The games were two 12 minutes quarters with a running clock.
Against McCrory, Harrisburg fumbled away their first possession of the game before the teams traded possessions with turnovers on downs the next three series. The Hornets got on the board as the first quarter expired when Jett Jackson found Ross Heeb behind the secondary for a 64 yard touchdown pass reception. Enellio McGinnis was stopped on the two-point conversion run to make the score 6-0 Harrisburg.
McCrory punted on their first possession of the second quarter before their defense stepped up and intercepted a Drew Wright pass giving the Jaguars the ball on the Hornets' 45-yard line. Harrisburg's defense stood strong forcing McCrory to punt giving the Hornets the ball on their own 35-yard line. The Hornets ran the clock out for the 6-0 win.
The game with Palestine-Wheatley was similar to the Hornet's first game. The teams turned the ball over on downs on the first two series before Harrisburg coughed up the football with the Patriots recovering at the Harrisburg 42-yard line. Palestine-Wheatley took advantage of the turnover as the scored on a touchdown pass to take a 6-0 lead late in the quarter. The two-point pass play fell incomplete as the time ran out.
Harrisburg had to punt on their first possession of the second quarter before the Patriots punted the ball back to the Hornets. Harrisburg got a big play on a screen pass to Jacob Wallace as Wallace took the ball to the Palestine-Wheatley 22-yard line with 40 seconds left. Two incomplete passes saw the the game clock hit double zero giving the Patriots the 6-0 win.
Harrisburg head coach Aaron Thornton was pleased how his team played. "I think the defense flew around and was physical tonight. Our offense's skill players are new and it'll a little more time to get the flow, but with nine starters back on defense, we knew they would be ahead of the game. We are still not where we want to be, but we'll work to get there," Thornton said.