Wildcat Stadium retired in grand style
Thursday, August 23, 2018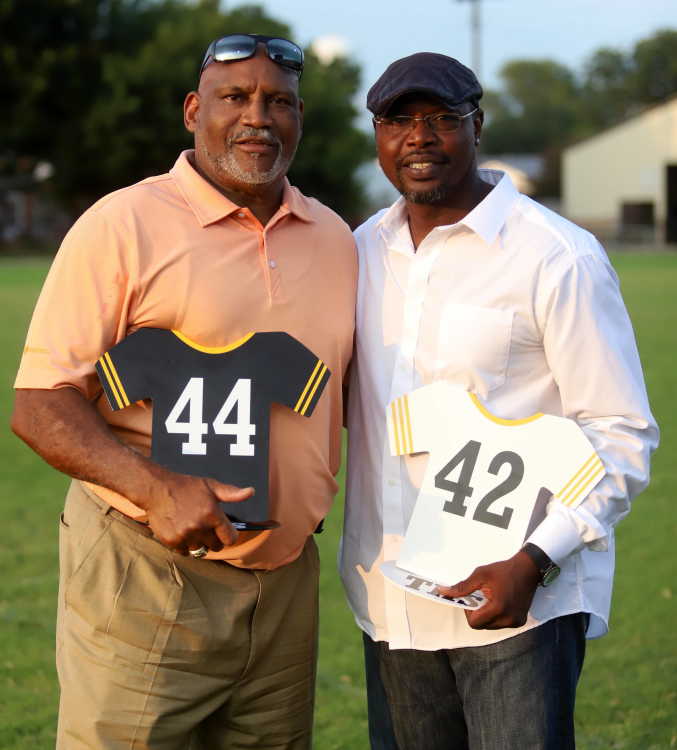 Wildcat Stadium in Trumann was officially retired this past Friday by the Trumann School District. School alumni and Wildcat fans filled the stadium and sidelines as alumni players, cheerleaders, majorette, band, flag line and color guard were on hand to participate in the festivities. Two former players, Joe Hollimon #44 (1971) and Elbert Shelley #42 (1983) had their jerseys retired. The Wildcats will move to RMC Stadium, which is nearing completion, located at the high school. The first game at RMC Stadium is scheduled for September 7 against Shiloh Christian.
After starring at Trumann, Hollimon played college football at Arkansas State before being drafted by the Minnesota Vikings. Released by the Vikings, Hollimon signed with the Edmonton Eskimos of the Canadian Football League. Hollimon won six Grey Cups with the Eskimos including five in a row from 1978-1982. He was a CFL All-Star in 1978 as well as a CFL West All-Star in 1976, 1978 and 1982. Hollimon spoke of growing up in Trumann. "I started school at Trumann in seventh-grade. I told them I wanted to play football, basketball and run track and I got to do all three. They did say something about school work too," Hollimon said with a laugh. "He urged the kids to word hard at all they do and to stay in school. My mom told me, Joe, sports may be your ticket to get off the farm..and she was right,"Hollimon added.
Shelley had a breakout year his senior year rushing for over 1,600 yards in leading the Wildcats to a first round state playoff with at Greenwood before falling to Stuttgart at home in round two. Shelley played college ball at Arkansas State. He played his first two years at running back before switching to the defensive backfield. "Coach (Larry) Lacewell called me in his office and said they were thinking of me moving me to defensive back and asked which position I preferred. I told him whichever one will get me the most playing time. Coach said that was a good answer. He told me before I left the meeting, this move may just put you in the NFL," Shelley said. Lacewell was right, Shelley was drafted in the 11th round of the 1987 draft by the Atlanta Falcons and enjoyed a 10 year career with the Falcons. A four time pro bowler (1992-1995) and a three time all-pro (1992, 1993, and 1995), Shelley shined as a special teams player. Shelley reiterated some of Hollimon's words, "Joe said it best, word hard at all you do and make sure you stay in school and graduate. I never dreamed of playing pro football and look what happened. Follow your dreams," Shelley said.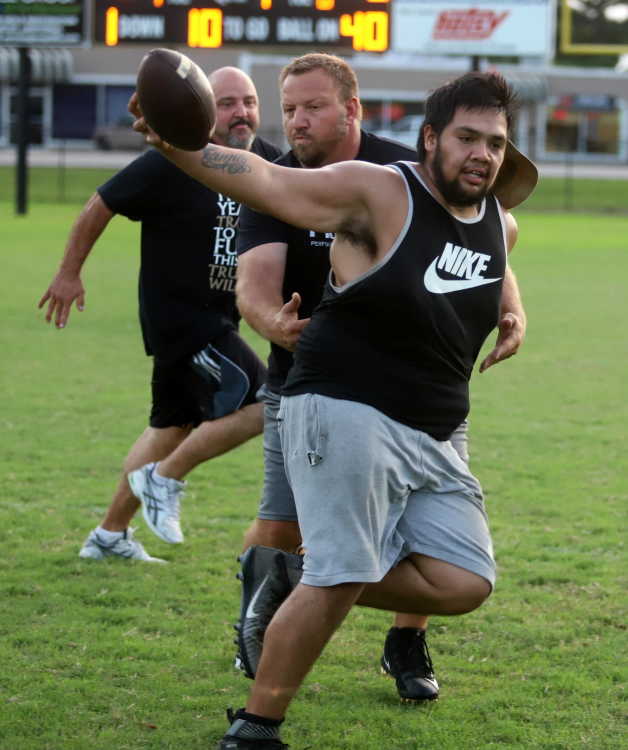 All the Trumann football teams from pee-wee through the high school team were introduced as well as the volleyball teams and cheer squads. The evening was capped off by four teams of alumni football players playing games of flag football.
I was saddened the week leading up to Friday as I played my all my home games on that field while in high school. But the night was amazing and full of excitement of seeing old classmates and friends from high school and reminiscing of times past. Thank you Wildcat Stadium for all the memories you gave to so many players and to this town.