New reading curriculum explained at workshop
Friday, August 24, 2018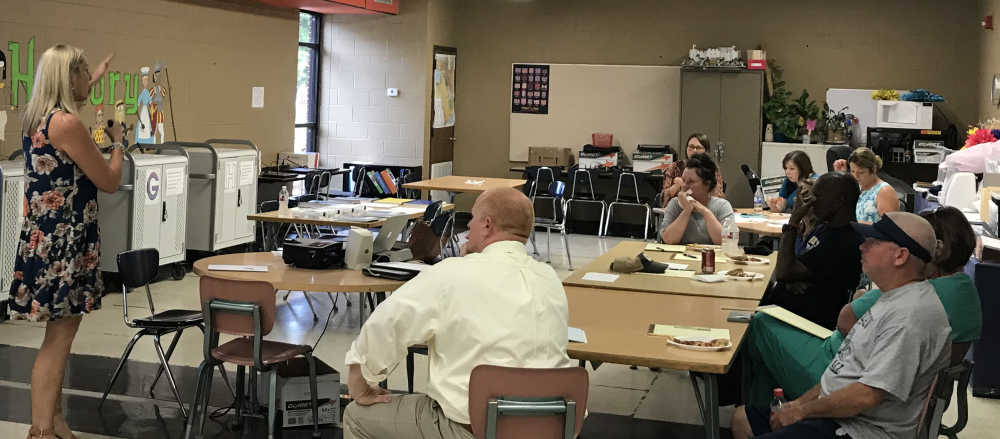 The Marked Tree School Board attended a literacy workshop last week to learn about the district's new reading curriculum. During the workshop, Kim Wilkins, who has been working with the district around ten years, explained the reading process, the curriculum, and curriculum supplements the district is hoping to get through a grant.
Wilkins explained that reading and learning to read is a complex process. She used the Reading Rope model to show that strands of core reading systems such as vocabulary, word identification, comprehension, fluency, and others work together with mental systems like background knowledge, language, thinking, and reasoning to form proficient reading. She described reading as code breaking and said the process of decoding doesn't stop in the second grade. "Reading comprehension is a process, not a product," Wilkins said.
She also had several exercises for the board members, principals, and superintendent to go through that help one understand the difficulty kids can have with reading comprehension. One of those examples was to read a paragraph that followed normal sentence structure but was made entirely of nonsense words. Though everyone could answer questions about the structure of the paragraph, no one understood what the paragraph meant.
Regarding the curriculum, Wilkins said it was based on research and evidence of what works. In K-2, they will work on phomemic awareness with Benchmark Phonetic Connections, which will help kids decode language. Grades 3-6 will have vocabulary and decoding through Benchmark Vocabulary and Word Study where they work on comprehension. And then there is Wit and Wisdom by Great Minds, a K-8 curriculum which Wilkins said would also help with teacher retention because teachers will not have to build their own curriculum. The material is research-based, includes the materials needed, and offers engaging projects for students.
For intervention, Wilkins spoke about a couple programs which are part of the grant the district has applied for. First there is 95 Percent Group. Wilkins said teachers already had information from assessments telling them what students in need of intervention needed to work on, but the teachers were having to come up with lesson plans, and that's a lot of work. The new curriculum will not only have intervention lesson plans laid out, they will also include the materials needed and will help them in a systematic way. Another intervention program is Read 180, which is for high school students who are struggling with reading. It blends instruction with computer software that tracks their progress. The instruction is customized to fit their needs, and Wilkins said it has led to some really positive outcomes.
Wilkins outlined some of the other supplements they are working on getting through the grant. If awarded, the Marked Tree Reads grant will allow for several things such as getting every student 20 books a year, getting teachers $500 per year, purchasing the intervention programs 95 Percent Group and Read 180 mentioned above, implementing a program recognizing students for meeting reading goals, an incentive store where students can spend incentive points earned from meeting their goals, hiring a Parent/School Liason for the lifetime of the grant, digital learning supports such as Chromebooks, iPads, and smart tvs, and more. The district will know in September whether or not they will receive the grant, and it will be awarded Oct. 1.
Wilkins said the process of looking at what the district has been doing and what it needs to be doing was started last September. And though they will need to wait to hear back on the grant regarding the supplements, the district started implementing the new reading curriculum with the start of classes this year.