Thornton talks Hornet football with Harrisburg Rotary
Tuesday, September 4, 2018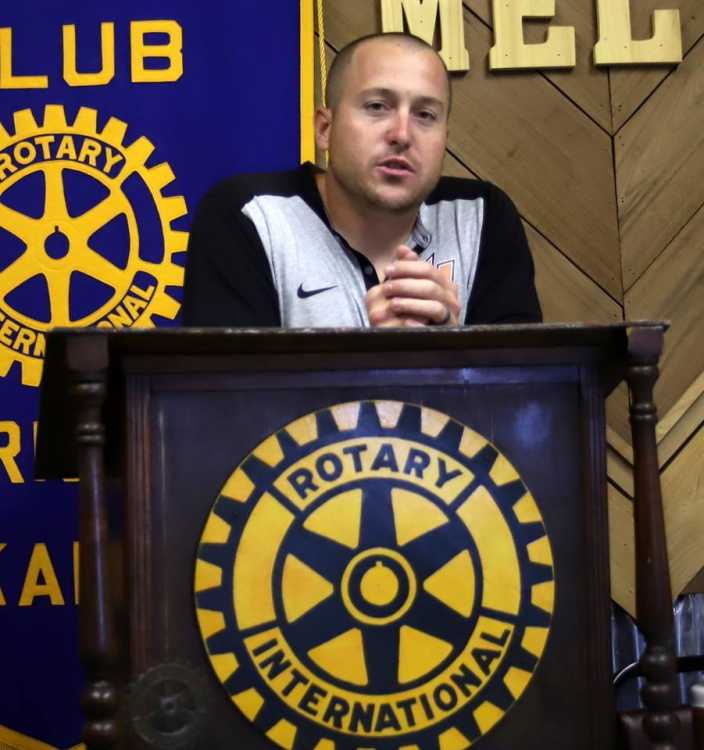 Harrisburg head football coach Aaron Thornton was the guest speaker last Thursday at the weekly meeting of the Harrisburg Rotary Club. Players Jett Jackson and Jared Lindsey were also on hand to speak about the team. Tayeshaun Warren and Daniel Jobe were also at the meeting.
"I appreciate you having me to come speak again. It's an honor to be and it's always good to brag on our kids a little bit," Thornton said.
Last year the Hornets started out 3-1 and then struggled down the end. But Thornton said the foundation was laid for the direction the team wants to go. "The biggest difference this year is we've had a complete off-season. Last year, we had a couple months and couldn't get much accomplished. We lift weights four days a week, and you can tell it by looking at the kids. They replaced fat with muscle, and it's shown on the field during summer workouts," Thornton said. "We are excited about the upcoming season, and I think the dividends they've put in are going to pay off tremendously." The Hornets are dropping back down to Class 3A, where they have enjoyed success in the past.
Jackson spoke next and talked about this being his last year to play. "I've played football for nine years, and it's kind of sad this will be my last year to play. There's no feeling like it to be out there with your brothers on a Friday night," Jackson said. "We have four lineman back to power our offensive line. We have good running backs returning, but we lost our best receivers from last year. We still have work left to do, but we are looking pretty good."
Lindsey, who will play defensive end, talked a little bit about the the Hornets' defense. "We'll run a three man front and hope to do a lot of damage this year," Lindsey said. The Hornets return nine starters on defense an looked good in their recent jamboree at Palestine. "We've got a good front six and excited to see what they can do. All are a year older, and all played last year," Thornton said.
Thornton talked a little bit about football not being all about football. "For the second year in a row, we will have Date Night with Mom. The players will dress appropriately and take their moms to dinner at Gavin's here in Harrisburg. We'll sit down with the kids and teach them how to treat a lady. The world does not tell us how to treat a lady these days," Thornton said. "We still have to keep fighting to teach young men how to treat women. It's a great, cool thing we get to do with the kids."
Thornton answered a few questions before closing. He said there will be 32 players on the team this year, down from 38 last year. "The biggest difference from last year is that 16-18 played on Friday night. This year, I think we can play all 32 kids in some capacity," Thornton said. Thornton said that with four lineman back on offense, the team will be a run-first team and look for the numbers when it's time to take to the air. He also said he liked the match-up for week one against Cross County. "Big rivalry game," Thornton said.