Junior Wildcats beat Hoxie in season opener
Thursday, September 6, 2018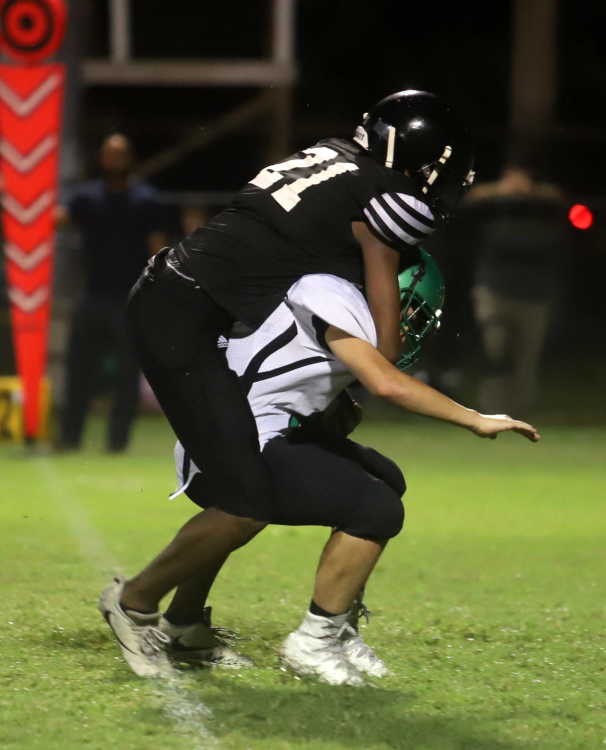 Trumann (1-0) got three touchdown runs from Gavin Guy as Trumann downed Hoxie 32-20 in the season opener for the Junior Wildcats last Thursday at Wildcat Stadium. This was the last official game to be played at the stadium.
Hoxie got the ball first and turned it over on the first play at Murphy Williams intercepted a pass and returned it to the Hoxie 20-yard line before a penalty moved the ball back to the Hoxie 45-yard line. Guy picked up 15 yards on first down and another 12 yards on the next play. Rian King carried the ball to the two-yard line before scoring on the next play to make it 6-0 Trumann. Guy added the two-point conversion run to make it 8-0 Junior Wildcats with 4:58 left. Hoxie had trouble handling the kick-off falling on the ball at their own 30-yard line. A face mast penalty on Trumann moved the ball out to the Hoxie with 3:47 left. The Junior Mustangs moved into Trumann territory before a swing pass was ruled behind he line of scrimmage with Azani Smith recovering for the Junior Wildcats at the Trumann 34-yard line with 1:03 left. The first quarter ended during Trumann's drive with the Junior Wildcats up 8-0.
Facing third and three on their own 41-yard line early in the second quarter, Guy sprinted 26 yards to the Hoxie 33-yard line. Dawson Shuburte gained 16 yards on the next play as Guy followed with a 13 yard run to the four-yard line. King finished the drive with a four yard touchdown run to make it 14-0 with 6:34 left. King added the two-point conversion run to make it 16-0 Junior Wildcats. Hoxie started their next drive on their own 44-yard line. The Junior Mustangs broke loose for a 19 yard run with Williams making a touchdown saving tackle at the Trumann 37-yard line. Hoxie found the end zone with 5:40 left and added the two-point conversion to make the score 16-8 Junior Wildcats. Guy returned the ensuing the kick-off to the Trumann 47-yard line where a host of Hoxie players brought him down. Guy broke loose for a 30 yard touchdown run with 3:18 left before Gavin Morgan added the two-point conversion run to make it 24-8 Junior Wildcats. The Junior Mustangs move the ball to midfield before Jacobbee Knave, Jr got a sack for Trumann with 53 seconds left moving the ball back into Hoxie territory. The Junior Mustang quarterback ran the ball to the Trumann 20-yard line as time expired in the first half with Trumann leading 24-8.
Full story in October 6 edition of the PCDT!