Hansen leads Red Wolves to win over SEMO
Thursday, September 6, 2018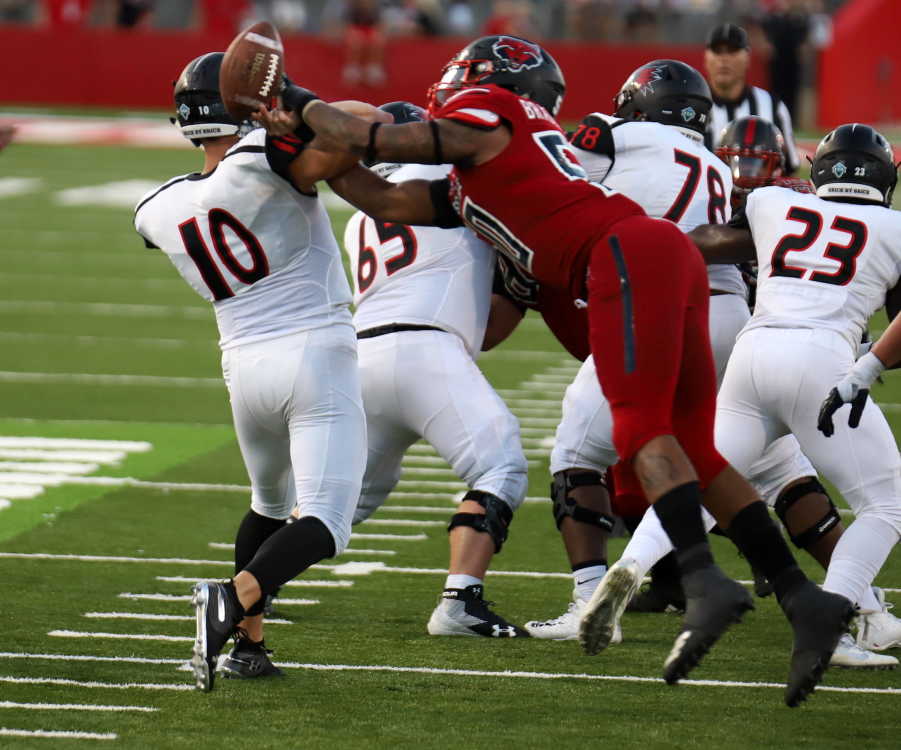 Justice Hansen set a new school record with six touchdown passes in Arkansas State's (1-0) 48-21 win over Southeast Missouri State University (SEMO) this past Saturday at Allison Field inside Centennial Bank Stadium.
The Red Wolves scored the only points of the first quarter as Hansen hit Jonathan Adams, Jr with a pass as Adams laid out for the goal line with a defender on this back for the score with 9:05 left. Sawyer Williams added the extra-point to make it 7-0 ASU. The Red Wolves had to punt on their second possession before the clock ran out in the opening quarter with ASU in possession at their won 30-yard line. The Redhawks intercepted Hansen in the second quarter and capitalized with a scoring drive to tie the game at 7 with 10:34 left in the first half. The Red Wolves responded with a 67 yard scoring drive that ended with a 15 yard pass to Justin McInnis for the touchdown. Williams again added the point-after to make it 14-7 ASU with 8:47 left. The Redhawks used to plays to cover 72 yards for the touchdown and with the extra-point tied the game at 14. The teams traded punts before ASU capped an 84 yard touchdown drive with a 36 yard pass to Kendrick Edwards for the score. Sawyer's PAT made the score 21-14 Red Wolves with 2:18 left in the first half. ASU took a 21-14 lead to halftime.
The third quarter saw the Red Wolves find the end zone four times, all on Hansen passes. Less than a minute into the quarter, Javonis Isaac took a pass and went 57 yards for the score with 14:01 left. William's extra-point made it 28-14. Hansen found Bubba Ogbebor for a six-yard score with 8:01 left as William's point-after was wide right to leave the score at 34-14 Red Wolves. Hanson hooked up with Omar Bayless on a 64 yard scoring strike with 6:11 left in the quarter. Williams was good on the PAT to make the score 41-14 ASU. Running back Marcel Murray took a short pass from Hansen and turned it into a 67 yard touchdown play to make it 47-14 with 2:11 left. Williams extra-point make it 48-14. SEMO had their only score of the second half with 37 seconds left on touchdown run. The extra-point set the final score at 48-21 Red Wolves.
Hansen finished with 26 completions in 36 attempts for 423 yards and an interception. Logan Bonner was completed two of three passes for 74 yards with a touchdown and an interception. Murray led all rushers with 55 yards on 10 carries as Armond Weh-Weh had 54 yards on 12 carries. Warren Wand added 33 yards on eight carries.
Kirk Merritt had five catches for 55 yards with McInnis adding four catches for 48 yards and touchdown. Edwards had three catches for 50 yards and a touchdown, Murray had two catches for 75 yards and a touchdown, Isaac had two catches for 70 yards and a touchdown, Bayless had two catches for 64 yards and a touchdown, Adams, Jr had two catches for 46 yards and a touchdown as Ogbebor had two catches for 15 yards and a touchdown.
Justin Clifton and Tajhea Chambers led the defense with six tackles each as Darreon Jackson, Jarrod Chandler and Kevin Thurmon each had four tackles. Ronheem Bingham and Dajon Emory each had a quarterback sack with Chandler and Forrest Merrill each having half a sack.