Odell Fitzgerald
Tuesday, September 11, 2018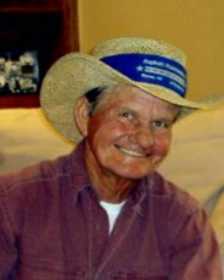 CHERRY VALLEY - Mr. Limuel Odell "Odie" Fitzgerald, 76, departed this earth in the loving arms of his three children, Wednesday, August 29, 2018, at his home. He was born October 30, 1941 in McCrory, Ark., the son of the late Johnny Claude Fitzgerald and Eithel Bell Burnett Fitzgerald.
Odell was a retired carpenter and loved hunting, fishing, and most of all spending time with his children and grandchildren. Odell always had a smile and a helping hand. To him, his greatest accomplishment in life was raising his three children which he adored. He was of the Pentecostal faith.
He was preceded in death by his parents, Johnny and Eithel Fitzgerald; two brothers, Herschel and Charles Fitzgerald, and two sisters, Eithel Marvine Fitzgerald and Emma West.
He is survived by three children, Tami Fitzgerald Young (Chris) of Jonesboro, Terry Fitzgerald (Kim) of Lake City, and Jenny Fitzgerald-Wisdom (Josh) of Centralia, Mo.; four brothers, Jessie, Junior, Orville, and Wayne Fitzgerald, all of Harrisburg; three sisters, Ruby York Camper of Poplar Bluff, Mo., Lou Dobbins of Cherry Valley, and Linda Dobbins of Harrisburg; four grandchildren, Kaylee Fitzgerald, Emily Fitzgerald, Cameron Young and Calen Young, and anticipating the arrival of a great grandchild, Claire Elizabeth Douglas. He is also survived by his lifelong friend and confidant, Paulette Bass Worley, a dear friend, Brenda Bass, and a host of other family members and friends.
The family has hearts that are heavy, and their lives will never be the same, but they rejoice in his passing into his Father's arms. His life inspired many and he touched many lives, simply by knowing and loving him.
Funeral services were held September 8 at the Gregg-Weston Funeral Home Chapel with Rev. Donnell Hill officiating. Burial followed in Holly Springs Cemetery near Harrisburg. Pallbearers were Johnny Wayne Fitzgerald, Leon Fitzgerald, Tommy Fitzgerald, Scotty Fitzgerald, Johnathan Webb and Brian Webb.
Personal condolences may be made to the Fitzgerald family at www.greggwestonfh.com and donations may be made to the New First Baptist Spirit and Truth Holiness Church in Cherry Valley.