Nita Jo Porterfield
Tuesday, September 11, 2018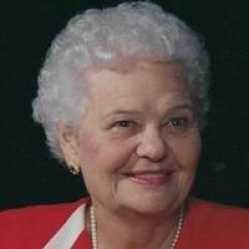 TRUMANN - Mrs. Nita Jo Porterfield, 90, entered her home in heaven on Tuesday morning, September 4, 2018. She was born on February 29, 1928, in Belmont, Miss. She was the oldest of 7 children. Her early childhood years were spent in Belmont where she received much love and affection from her maternal grandparents, Charles and Laura Thorn. Her family moved to the Weona community near Trumann around the time she entered school. During her teen years, she met the love of her life, Floyd Neal Porterfield, who lived in the nearby community of Burns. They were married on December 26, 1945. During his time in the United States Navy, they would make their home in Jacksonville, Florida for a brief time before returning to Trumann. Their family grew from being a newlywed couple in 1945 to being the parents of five children by 1954. With her hands and heart full, Nita Jo set about making sure her home was as happy as she could make it. When food and finances were meager, she welcomed family and friends. Never one to be still for very long or be afraid of hard work, she spent many years as a factory worker first for Singer (Poinsett Lumber and Manufacturing) and eventually for Salant & Salant. Aside from factory jobs, she picked cotton, worked in a café, a dry-cleaning business, and a pizzeria. Even after working long hours, nothing made her happier than a house full of family sharing conversation and a meal together. She enjoyed embroidery and quilting only when the weather wasn't conducive to fishing. A day spent on the lake fishing from their boat was considered to be a perfect day to her and Neal. As the children married and grandchildren began arriving, she focused more of her attention on the grandchildren. This meant sharing stories of their parents' antics, preparing a favorite meal or treat, taking them to church with her, or teaching them something she enjoyed. Aside from family and friends, she loved her church family. She was a member of First Baptist Church, Trumann, where she was active in WMU for many years and often found joy in serving a meal to others during their time of bereavement. In November of 1991, her heart sank as she was forced to say goodbye for now to her husband of 46 years. After Neal's death, she struggled as most grieving spouses do to find a new normal. She became a frequent traveler with tour groups, attended dances with her friends, and continued to meet and make new friends including one that became a little more special than the others. She made the most of these years until a series of health concerns including dementia made it impossible for her to live alone any longer. She lived well. We wish to thank the staff of Craighead Nursing Center and Hospice House of Jonesboro for their care and attention.
She was preceded in death by her husband, Floyd Neal Porterfield; two sisters, Jean Carlson and Annelle Cronan; one brother, Charles Cox and her parents, Earnest and Virgie Bradley
She is survived by three sons; Larry (Donna) Porterfield of Rudyard, Mich., Tony (Sharon) Porterfield of Olive Branch, Miss. and Ricky "Petey" (Charlotte) Porterfield Lunsford; two daughters, Diane Carr of Trumann, and Loretta (Phil) Harris of Moulton, Ala.; two brothers, Marvin Cox, Jr. of N.C. and Ronnie Cox of Wichita, Kan.; nine grandchildren, David Porterfield, Nathan Porterfield, Heather Pavlat, Tracy Dean, Dana Lands, Autumn Giovanna, Moses Porterfield, and Israel Porterfield; 14 great-grandchildren.
Funeral services were held September 6 at First Baptist Church in Trumann with Rev. John Maley officiating. Burial followed in Jonesboro Memorial Park Cemetery in Jonesboro, Ark., under the direction of Thompson Funeral Home.
Pallbearers were James Dean, Chris Lands, Moses Porterfield, Tim Pavlat, Nathan Porterfield and Israel Porterfield. Honorary pallbearers were her Sunday School Class.
Online guest book can be signed at www.thompsonfuneralhome.net.