Junior Warriors battle to tie with Piggott
Thursday, September 13, 2018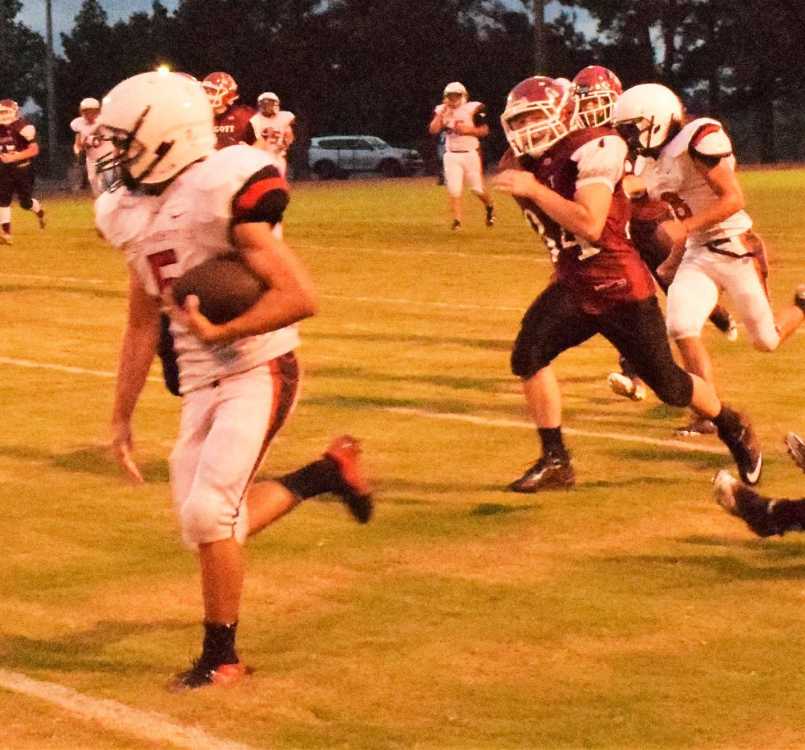 The Piggott Mohawk and East Poinsett County Warrior junior high football teams met Thursday, Sept. 6, in non-conference action and played to an 18-18 tie. Actually, over three minutes remained in regulation at Piggott's Parker Field, but an electrical outage prompted the officials to call the game early.
The previous week the Mohawks had visited the Rector Junior Cougars in non-conference play, and saw that contest called at the halftime break due to lightning and approaching severe weather. Thursday night the rain was light, but nearby lightning played a role in ending the contest in yet another draw.
The Mohawks drew first blood in the contest, capping a second quarter drive at the 7:55 mark with a five yard touchdown run by Joe Carpenter. But, as it was throughout the night for both teams, the conversion attempt was no good.
The Warriors answered at the 5:28 mark of the second, as Candon Argo broke loose on a 58 yard touchdown run. Again the conversion attempt was no good, and the score stood at 6-6.
The Mohawks scored again late in the first half, as quarterback Jackson Howell took it in the keeper from one yard out. Again, failing to convert, the home team took a 12-6 advantage into the locker room at the half.
The Warriors struck early in the third to tie the game, as they got a 67 yard touchdown run from Barry Rossell on a swing pass to the left side. Missing the conversion attempt pass, the score was knotted at 12-12.
Neither team scored the remainder of the third, or the early part of the fourth quarter. Finally, the Mohawks broke the deadlock with 5:19 to play in the ballgame. Scoring from one yard out was Kyler Smith, but again the conversion attempt was no good as the score moved to 18-12.
Argo would once-again tie the contest with 3:58 to play, as he broke a 37 yard touchdown run for the Warriors. And, the Mohawk special team was up the task yet again, as they were able to stop the two point conversion attempt and maintain the tie at 18-18.
Moments later the power went out across the city of Piggott, including the football field, as a lightning strike at Malden interrupted the main feed. The power came back on a short time later, but due to the time required to re-start all the lights—and the amount of time left in the game, the officials decided to send the crowd home early.