Junior Hornets cruise to win over Cedar Ridge
Thursday, September 13, 2018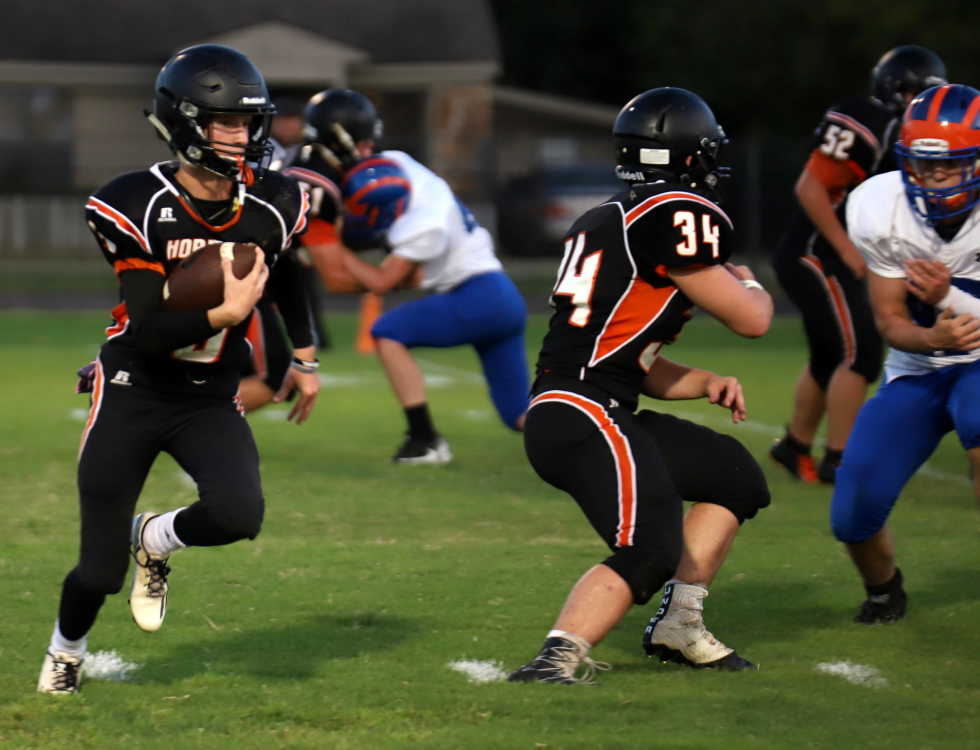 Harrisburg (2-0) jumped out to a 14-0 lead in the opening quarter and never looked back in a 38-8 win over Cedar Ridge in junior high football action this past Thursday at Hornet Stadium.
The Junior Timberwolves got the ball first as Jace Heeb's sack on third down forced Cedar Ridge to punt the ball to Harrisburg. The Junior Hornets started on the Cedar Ridge 48-yard line with 5:20 left. Colby Summers had a big run to the 34-yard line before carrying the ball to the 24-yard line with the next two carries. Samuel Moore rolled out and kept the ball scampering 24 yards for the touchdown with 3:35 left. Moore found James Pender with the two-point conversion pass to make the score 8-0 Junior Hornets. Cedar Ridge was forced to punt the ball on their next series as Hayden Lindsey got a hand on the punt with Summers catching the blocked punt and returning it to the Junior Timberwolves' 11-yard line. Harrisburg wasted little time as Moore hit Trey Davis with a quick pass as Davis took it to the end zone for a touchdown with 15 seconds left. Moore ran in the two-point conversion to make it 16-0 Harrisburg. Cedar Ridge fell on the ensuing high pooch kick on their own 32-yard line. The quarter ended before a snap could made with Harrisburg up 16-0.
Harrisburg was flagged for pass interference on third and long giving Cedar Ridge a first down on their own 45-yard line. The Junior Timberwolves went for the first down on fourth and one only to cough the ball up with Pender recovering for the Junior Hornets at their own 46-yard line with 4:07 left. Moore hit River Carter for a 25 yard gain before Moore carried the ball to the Cedar Ridge 17-yard line. Summers capped the drive with a 16 yard touchdown with 3:10 left. Moore again ran in the two-point conversion making it 24-0 Harrisburg. Cedar Ridge had to punt the ball away on their next possession with the Junior Hornets taking over at the Junior Timberwolves' 38-yard line with 58 seconds left in the half. The half ended during Harrisburg's drive with the Junior Hornets up 24-0.
Full story in September 13 edition of the PCDT!