Jim Berry was a pillar of Marked Tree
Monday, September 24, 2018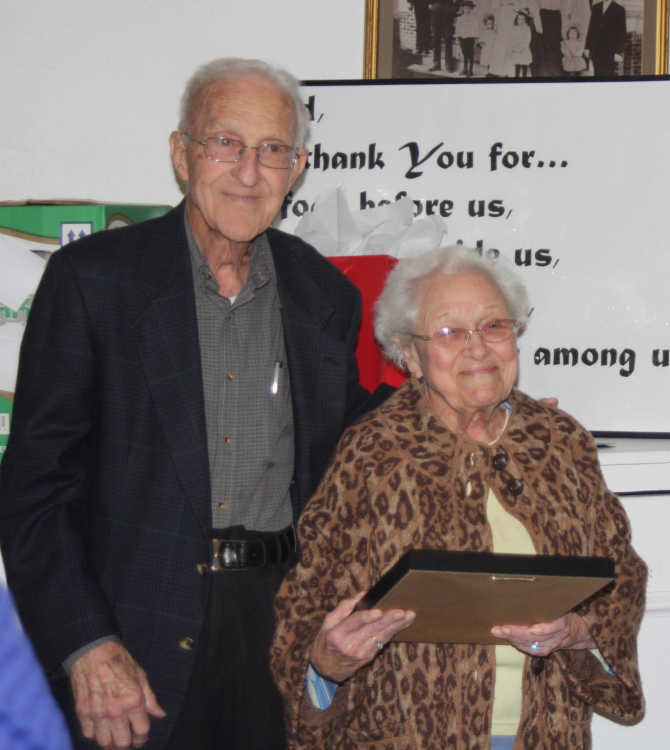 The Marked Tree community lost one of its pillars Monday in Jim Berry. Born in 1927, he would have been 91 on Sept. 15. Prior to Jim Berry's passing, this reporter was able to visit the Berrys last week and speak with their son, David Berry, about the lives of his father and mother.
"Some people have parent issues, but I'm not one of them. I had great parents," David said. David, who was born in 1968 when Jim and Melba were in their 40s, said the Berrys were nearly 40 when they got married, which was unusual at the time. Growing up, most of David's friends' parents were a generation younger than his own, but he always liked that. "They were stable, mature, kind parents," David said.
Both Jim and Melba were public school teachers, and David said because of their influence, he grew up interested in teaching and is currently a college music professor. "They're the kindest, sweetest people," David said. "In a kind of selfish world, they're selfless. That's the wonderful thing about them."
Jim was born in Harrisburg, as was Melba. Jim was born a year before her, but he had pneumonia as a kid and missed so much school that he had to take a year over and wound up in the same class as Melba. "He would joke, that's when mom caught up with him," David said.
Jim graduated high school just before the end of World War II in 1945. He wanted to go on to college but knew his draft number was coming up soon. David said he wasn't sure if Jim was drafted or if he enlisted first, but Jim served in the U.S. Army for year and a half and spent nine months in an Army base in Beijing, China. This was during the time when China resumed its civil war between Chiang Kai-Shek's Nationalist Party and Mao Zedong's Chinese Communist Party with the United States and the Soviet Union both trying to advance their interests in the country while offering limited military assistance. "He said occasionally he could hear gunfire, but he was never in danger because he was on a military base," David said.
David said during the last few months of Jim's service, he was on a U.S. base, and his commanding officer asked him about his future plans. Jim told him about his college plans, and because the beginning of the school year was fast approaching, his commanding officer was able to pull some strings so that Jim could get out a week or two early to start school.
David said before his dad got into teaching, he had some side jobs, one of which was working for a credit company repossessing cars. "It's funny because he's so mild-mannered," David said, adding that no one ever tried to get violent with Jim.
Jim graduated from Arkansas State University--which was known as Arkansas State College at the time--in 1952. He taught junior and senior high for 36 years total: two in Manila, Ark.; 14 in Cardwell, Mo.; and 20 in Marked Tree before he retired in 1990.
At Marked Tree, Jim taught Junior High Social Studies and History. "He really liked ancient cultures and was especially enthralled with Egypt," David said. Jim and Melba were in their 70s when they retired, and David said they were able to travel to a lot of places around the world before Jim was diagnosed with bone cancer. "I don't think Dad had any regrets," David said, adding that Jim probably would have liked to see Egypt, but the country was not safe to travel to during their retirement years. David said his partner is from Greece, and when she showed Jim some of her pictures of temples and architecture over there, "That really perked him up."
Before they married, Jim and Melba had both been single a long time and had gone their seperate ways. Melba taught Home Economics in Harrisburg. The two reunited in their late 30s, and David said a family member played matchmaker with the two and would bring Melba over to be with Jim's family as a pretense to get the two of them together.
They married in 1966. David said because they were older when they married, they decided to make their 40th anniversary a big celebration in case they didn't make it to 50. "But they did make it to their 50th," David said. They had a smaller celebration then since they had already done their big one. During a surprise early birthday celebration a couple weeks ago, the two renewed their vows again on the spur of the moment. They were married a total of 52 years.
As many know, Jim and Melba were extremely involved in the community. They volunteered, donated, and always tried to help people. They volunteered in various capacities at First United Methodist Church in Marked Tree and at the Delta Area Museum. They were honored by the Marked Tree Historical Society in 2007, and the mayor proclaimed that day "Jim and Melba Berry Day." They also served as co-Grand Marshals of the Marked Tree Christmas parade in 2014. And a couple years ago, they received an award for Citizens of the Year from the Marked Tree Chamber of Commerce along with a citation from the Arkansas House of Representatives.
Sandy Teague, whose company took care Jim during his final days, said, "He is just a pillar of this community. There will never be another Mr. Berry. He's an icon of Marked Tree."
David added that people recognized his parents everywhere they went, and the two were inseparable. "They only think of one another," David said. "He asks how Mom's doing, and she would be the same way. And you never see them apart. If you see one, you see the other. That's what everyone would say, that they were joined at the hand."