Marked Tree falls in conference opener to Cross County
Thursday, September 27, 2018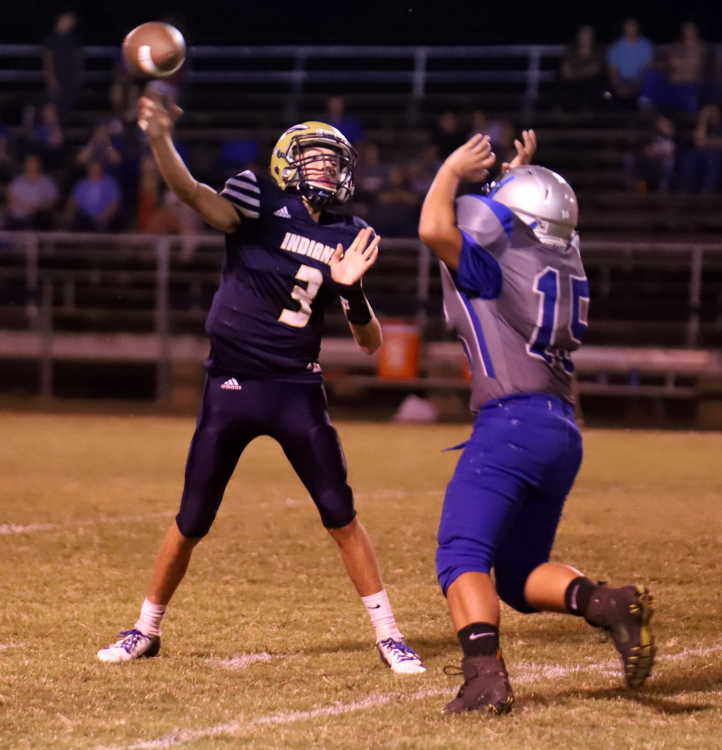 Marked Tree (1-2, 1-1) could not find an answer for the six touchdowns scored by Cross County's A.J. Beale as the Junior Indians lost 42-28 last Thursday to the Junior Thunderbirds at Don Lovell Memorial Field.
Cross County returned the opening kick-off to the Marked Tree six yard line where two plays later they had a 6-0 lead. The two-point conversion was also good making it 8-0 Junior T-birds with 6:56 left. Cross County kicked a high pooch kick which they caught after it went 10 yards to gain possession of the ball. It only took three plays for the Junior Thunderbirds to find the end zone making it 14-0. The two-point conversion pass was incomplete leaving the score the same with 5:49 left. After an offsides penalty on the onside kick by Cross County, the second onside kick went out of bounds giving the ball to Marked Tree on their own 38-yard line. Brylan Honeycutt took a big loss trying to scramble out of trouble and the Junior Indians' offense couldn't recover as a fourth down pass fell incomplete turning the ball over downs with 3:48 left. Cross County had moved into Marked Tree territory when the first quarter came to an end with the Junior T-birds up 14-0.
Facing third and fifteen to start the second quarter, Cross County could not pick up enough yards on the next two plays to gain a first down as Marked Tree took over at their own 27-yard line with 7:24 left. LaRay Brown picked up 14 and 20 yards on back to back runs moving the ball to the Cross County 39-yard line where Aayden Johnson took a speed sweep left and hit the sideline going 39 yards for the Marked Tree touchdown. The two-point pass was incomplete leaving it 14-6 Junior Thunderbirds with 6:17 left. Cross County fell on the ensuing onside kick to have first and ten at the Marked Tree 49-yard line. The Junior Thunderbirds used up most of the time remaining scoring with 18 seconds left to make it 20-6. The two-point pass play was incomplete. Itavious Nesbit returned the kick-off for Marked Tree out to his own 40-yard line as Johnson had an 18 yard run as the first half ended with Cross County up 20-6.
Full story in September 27 PCDT on newsstands now!