Clara Stacy
Tuesday, October 9, 2018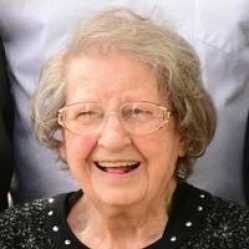 Mrs. Clara Patrick Stacy of Jonesboro, formerly of Benton, Kentucky departed this life on September 29, 2018 at the age of 94 years, 6 months and 10 days. She was born Wednesday, March 19, 1924 to the late Milton and Rosann Patrick. She was preceded in death by her husband, Wayne Eli Stacy in 1986, her parents, and brothers Daniel Patrick, Amil Patrick, Robert Patrick, Carl Patrick, Joseph Patrick and Clark Patrick.
Survivors include her children Peggy (Ronald) Meeker of Jonesboro, AR, Harold Stacy of Cowan, TN and Ernestine (Craig) Below of Northbrook, IL; eight grandchildren, Jeff Meeker, Denise (Kelly) Klingensmith, Lisa (BJ) Glasco, Geneva (Luis) Acevedo, Joe Stacy, Logan Stacy, Tiffany (John) Mathews, and Ashley Below; six great-grandchildren, Travis (Cortney) Glasco, Austin Glasco, Justin Klingensmith, Ella Klingensmith, Cole Mathews and Knox Mathews; one great-great-grandchild; Cooper Glasco; three sisters, Louzilla Patrick, Rachel (LC) Singleton, Glenna (John) Dunford.
The family would like to thank Norma Faye King, Bette Mross and Dr. Ben Owens and staff for the care they have given Mrs. Stacy.
Graveside services were Thursday, October 4, 2018 at 2:00 p.m. at Marshall County Memorial Gardens, Benton, Kentucky under the direction of Collier Funeral Home of Benton, Kentucky and Thompson Funeral Home of Trumann, Arkansas.
In lieu of flowers, lasting memorials can be given to Union Grove Baptist Church, 5217 Richardson Drive, Jonesboro, AR 72404 or to a charity of your choice.