Warriors down McCrory to stay perfect in conference play
Thursday, October 18, 2018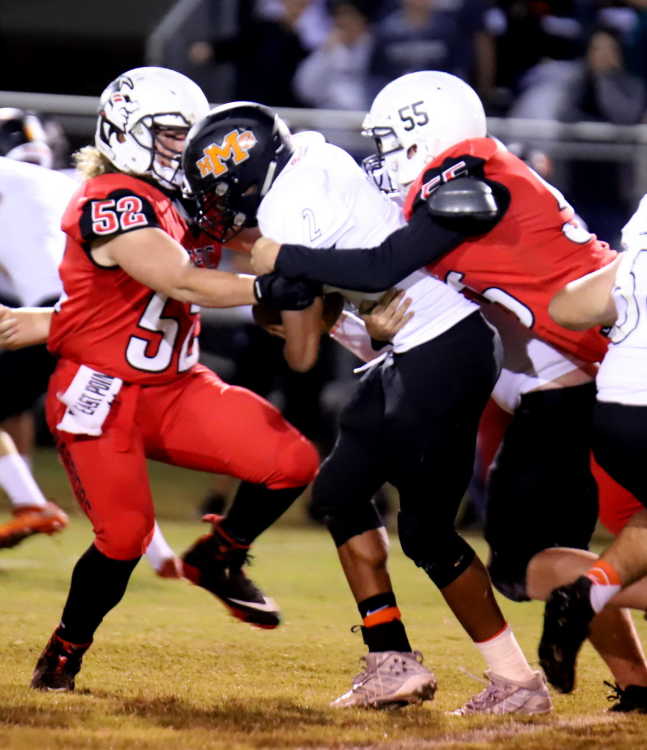 EPC (6-1, 4-0) stayed unbeaten in the 2A-3 conference race with a 26-16 win over McCrory this past Friday night at Warrior Field in Lepanto.
McCrory got the fall first and used five running plays to move to the EPC 44-yard line before having to punt the ball away. The Warriors started their possession on their own 13-yard line with 9:09 left. Gates picked up two yards on first down before galloping 45 yards to the Jaguars' 40-yard line. Andrew Harston picked up11 yards on the speed sweep as Gates was stopped for no gain and Preston Rains' pass was incomplete bringing up third and ten. Gates picked up eight yards only to see Rains stopped for no gain as the Warriors turned the ball over on downs at the McCrory 21-yard line with 7:07 left. A holding penalty derailed the McCrory drive as they had to punt with 4:20 left as the ball was downed on the EPC 45-yard line. Gates scored on the first play only to have it called back for holding penalty on the Warriors placing the ball on the the McCrory 33-yard line. Rains ran for five yards as a face make penalty was called on the Jaguars moving the ball to the McCrory 13-yard line. Gates carried the next two plays with the second being a 10 yard touchdown run with 1:13 left. Harston added the two-point conversion run to make it 8-0 EPC. McCrory moved the ball to midfield as the first quarter ended with EPC up 8-0.
McCrory converted a third and four on the first play of the second quarter. The Jaguars moved the ball to the Warriors' 27-yard line before Austin Baker dropped the McCrory runner for a six yard loss on fourth and two to give EPC the ball on EPC 33-yard line with 8:19 left. Harston ran for four yards, Rains threw an incomplete pass before Gates lost four yards forcing EPC to punt. Hank Knapp's punt was downed at the McCrory 31-yard line with 6:21 left in the first half. McCrory put together an 11 play scoring drive that covered 69 yards to make it 8-6 EPC. The Jaguars' two-point run was good to tie the game at 8 with :23 seconds left. Gates fell on the McCrory squib kick before an incomplete pass and a Rains sack ended the first half with the score still 8-8.
Complete game article in October 18 edition of the PCDT!