Junior Warriors get 42-22 win over Cross County
Thursday, October 25, 2018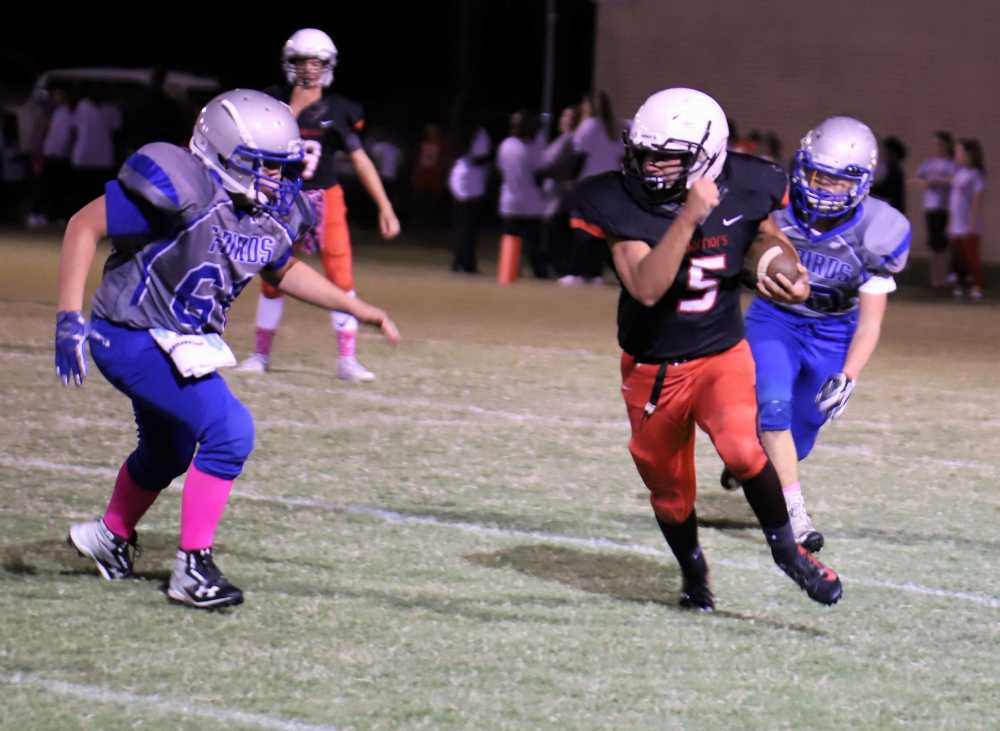 A strong running game that produced five touchdowns along with two punt returns for touchdowns carried EPC (5-1-1, 4-1) to a 42-22 win over Cross County in 2A-3 junior high football action last Thursday at Warrior Field in Lepanto.
Cross County got the ball first at their own 20-yard and moved the ball to the 33-yard line before having to punt with the ball being downed at the EPC 39-yard line with 4:34 left. Candon Argo went 61 yards on the first play only to have it called back due to a penalty. Kade Jennings picked up 22 yards on the next play down to the Junior Thunderbirds' 46-yard line. Argo lost two yards before an incomplete pass brought up third and twelve. Argo rambled for eight yards before Jennings was dropped for a three yard loss on fourth down to give the ball back to Cross County with 2:27 left. The Junior T-birds moved the ball to the EPC 36-yard on four straight running plays as the first came to an end with the score 0-0.
Cross County continued the running game moving the ball to the EPC 10-yard line only to be stopped for no gain on third and fourth downs turning the ball over to the Junior Warriors with 2:50 left in the half. Argo had runs of 23 and 15 yards to move the ball to their own 48-yard line before Josh Gilmore broke loose for a 52 yard touchdown jaunt to make it 6-0 EPC. Argo ran in the two-point conversion to make the score 8-0 Junior Warriors with 2:19 left. The Junior T-birds started their next possession at their own 24-yard line as they gained five yards on three plays and were forced to punt. Barry Rossell, Jr field the punt at the Cross County 46-yard and outraced everyone to the end zone for a touchdown with 57 seconds left in the half. Jennings ran in the two-point conversion to make it 16-0 Junior Warriors. Cross County recovered the ensuing onside kick at their own 49-yard line before gaining 21 yards on two running plays, an incomplete pass and passes of 24 and six yards to reach the end zone with no time left on the clock. The two-point play was no good leaving the score 16-6 EPC at the half.
Full game story in October 25 edition of the PCDT!