Junior Hornets down Hoxie in season finale
Thursday, November 1, 2018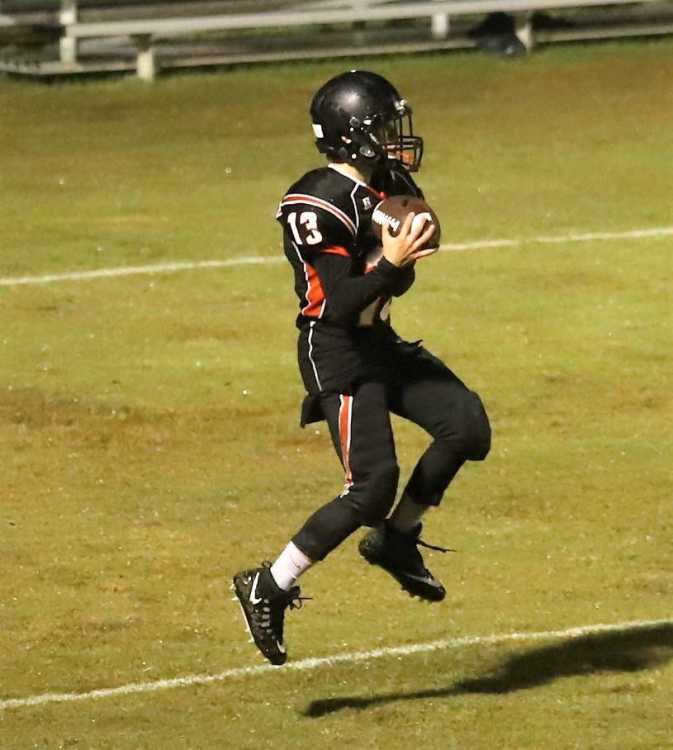 Harrisburg (8-1, 6-1) downed Hoxie 36-14 on a chilly, windy and rainy night in their season finale last Thursday at Hornet Stadium in Harrisburg.
Hoxie got the ball first and put together an eight play drive that resulted in a touchdown with 4:34 left in the opening quarter. The two-point try was no good to make it 6-0 Junior Mustangs. Harrisburg started their first drive at their own 45-yard line as the kickoff went out of bounds. Colby Summers had runs of eight and 16 yards to move the ball to the Hoxie 31-yard line before Samuel Moore ran for seven yards. Summers was stopped for no gain as Moore lost a yard back to the 25-yard line. Moore found James Pender for a 25 yard touchdown pass on fourth down to tie the game at 6. Summers added the two-point conversion run to make it 8-6 Junior Hornets with 1:23 left. Hoxie started their next drive on their own 40-yard line as three runs moved the ball to the 47-yard line as the first quarter ended with Harrisburg leading 8-6.
A Michael Moore sack on fourth and 11 caused Hoxie to turn the ball over on downs at the Harrisburg 49-yard line with 6:17 left. Brayden Kimble hauled in a 25 yard pass from Moore as Summers ran for no gain on the next play. Two incomplete passes brought up fourth and 10 as Moore hit Trey Davis on a post play from 24 yards out to make the score 14-6 Junior Hornets with 4:53 left. The two-point pass play was no good. Hoxie went three and out on their next possession as a tackle for a loss of three yards helped force the Junior Mustangs to punt with the ball being downed at the Harrisburg 28-yard line with 3:13 left. Harrisburg went three and out as a sack and an incomplete pass around a Summers' eight yard run forced the Junior Hornets to punt. The 21 yard punt was downed at the Harrisburg 48-yard line with 1:45 left. Hoxie fumbled on the second play with Hayden Lindsey recovering for the Junior Hornets at the Harrisburg 44-yard line. An incomplete pass by Moore and Summers runs of minus two yards and a one yard gain ran the clock out as Harrisburg took a 14-6 lead into halftime.
Complete game article in November 1 PCDT on newsstands now!