Marked Tree falls to Rector 20-0 at home
Thursday, November 1, 2018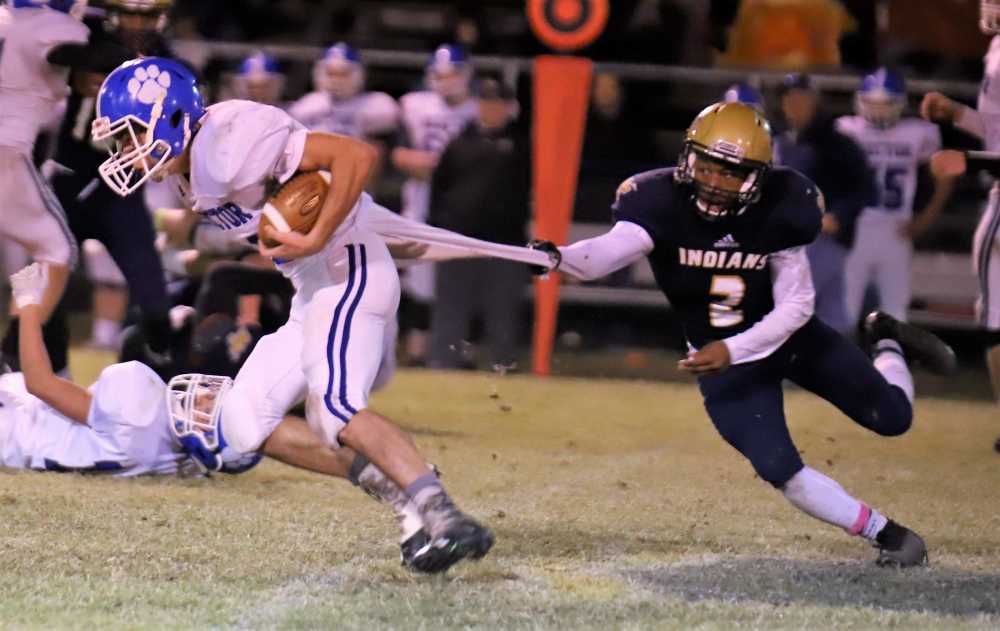 Rector (5-3, 3-2) earned a spot in the Class 2A state football playoffs with their 20-0 win over Marked Tree (3-5, 1-4) this past Friday at Don Lovell Memorial Field in Marked Tree. The Cougars last appearance in the playoffs was 2000.
The Cougars got the ball first as Chris Hufty fell on the onside kick at midfield to start the game. Evan Dooley ran for no gain before Max Ford had back to back runs of five yards to pick up a first down for Rector with 10:20 left. Parker Bucy found Ford open for an 18 yard pass moving the ball to the Marked Tree 22-yard line as Bucy picked up six yards on the next play. Dooley coughed the ball up on the next play as Jamaria Anderson recovered for the Indians at his own 14-yard line with 9:15 left. Quarterback Jack Brown scrambled for a 43 yard gain on first down to the Rector 43-yard line before a false start backed the Indians up five yards. Back to back runs by Brown gained three yards before Cougar Gage Parrish sacked Brown for an eight yard loss forcing Marked Tree to punt. Rector started their drive at their own 25-yard line as Kale Hardin picked up five yards on first down. Dooley was tackled for a yard loss before Bucy found Ford again for 16 yards to the 45-yard line. Hardin lost a yard, Bucy gained a yard as Bucy's pass to Ford picked up 15 yards for another Rector first down at the Marked Tree 40-yard line with 3:33 left. Marked Tree's Chaz Simmons tackled Dooley for a yard loss as Bucy ran for no gain. A pass interference call on Marked Tree gave the Cougars a first down on the Indians' 26-yard line with 1:37 left. Dooley and Ford ran for six and four yards respectively as Dooley picked up 10 yards to move the ball to the Marked Tree six-yard line where a face mask on the Indians moved the ball to the three-yard line. Hardin ran for no gain as the quarter came to an end with the score 0-0.
Dooley put the ball in the end zone from three yards out on the first play of the second quarter to make it 6-0 Rector. The two-point conversion try was no good. Justin Lowry recovered the ensuing onside kick for Marked Tree at his own 47-yard line. Anderson was stopped for a one yard loss before an interception by Rector's Dooley was negated by a pass interference call giving the Indians the ball on the Cougars' 39-yard line with 10:37 left. Brown picked up 13 yards on three straight carries to but the ball on Rector 23-yard line. Justin Ellis picked up four yards before a snap over Brown's head lost 11 yards to bring up fourth and long as Marked Tree called a time out with 7:46 left. Brown's pass on fourth down was incomplete turning the ball over to Rector on their own 33-yard line. The Cougars went three and out as Ford gained five yards before Chris Ivy and Anderson had back to back sacks for Marked Tree to force Rector to punt. Ivy returned the punt to the Indians' 46-yard line as Anderson picked up three yards on first down. Hardin broke through a tackle for loss of four yards as Brown gained no yards on third down as the Indians punted the ball back to Rector with 2:46 left. Ford gained no yards on first down as Kylen Johnson sacked Bucy for a four yard loss on second down. Ford picked up 19 yards on a pass from Bucy as Bucy's next pass fell incomplete. Rector ran the old hook and ladder play as Bucy hit Ford for seven yards as he pitched the ball to Dooley who picked up three yards for a Cougar first down at their own 47-yard line with just under a minute left. Bucy threw an incompletion, Dooley rushed for four yards as Bucy's pass again fell incomplete. Dooley was dropped for a four yard loss by Kylen Johnson on fourth down as Marked Tree took over on downs at the Rector 47-yard line with 25 seconds left. Anderson picked up six yards on first down as Brown ran deep in Marked Tree territory as the first half came to an end with Rector up 6-0.
Full game article in November 1 edition of the PCDT!