Jones talks Public Works with Trumann Lions Club
Monday, November 5, 2018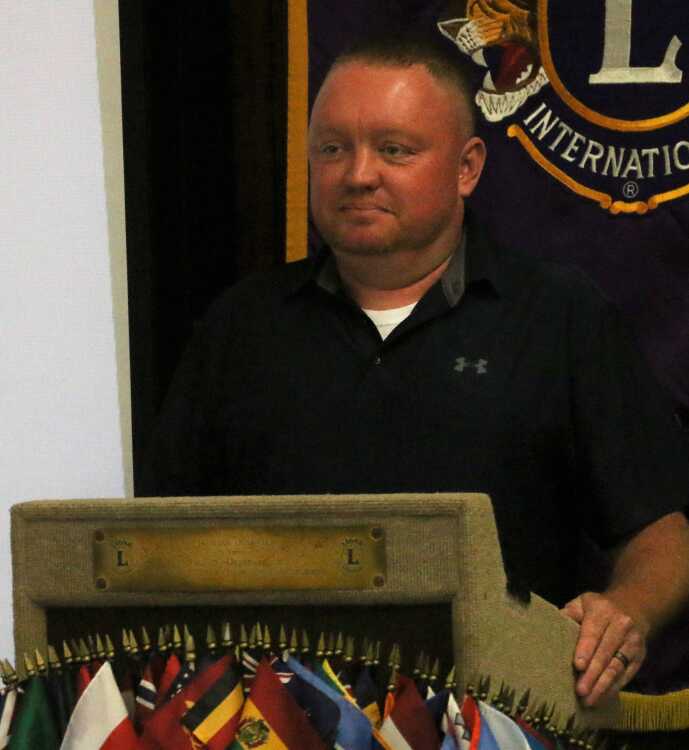 Scotty Jones, Public Works Director for Trumann, was the the speaker last Thursday at the Trumann Lions Club's weekly meeting at the Old Community House.
Jones has been employed by the city of Trumann since 2001 and in 2008 became the Water Works manager. Five years later in 2013, Jones became the Public Works Director for Trumann. In 2017, Jones took on the roles of Chief Building Inspector and Flood Plain Manager. He is ADH licensed Water Treatment Operator and Water Distribution Operator, ADEQ licensed Waste Water and Industrial Waste Water Treatment, AWEA licensed Waste Water Collection System Operator, ADH Licensed plumbing and HVAC/R inspector, Arkansas Department of Labor licensed Electrical Inspector, and ANRC certified Flood Plain Manager. Jones must attend a minimum of 120 hours of mandatory training to keep these licenses and certifications.
Public Works has six departments inside of it: water and sewer, streets, sanitation, parks, mosquito control, and building inspections. The water and sewer employs three full-time and one part-time employee in the office, one full-time at the waste water laboratory and seven full-time field employees. The streets employ six full-time field employees and one part-time employee at the Oak Street disposal station. Sanitation has three full-time CDL licensed employees, parks has two full-time employees, and one person does spraying for mosquito control.
Jones showed slides of work that has been done around town which included a sewer main collapse off of Parkview that required 30 feet of new pipe, a manhole collapse on Mulberry that took two weeks to repair, replaced lift stations with $1.5 million spent since 2008, a water line on Paschal, and a water leak at Patterson and Ellis where 200,000 gallons of water was lost.
The street department maintains the roads year-road and also does mowing and weed eating. The parks have over 200 acres to take care of weekly, sanitation not only picks up the normal trash but also picks up limbs and debris that are left curbside. "We stay pretty busy in all our departments," Jones said.
Jones shared a few facts in closing. The water department produced 226,146,000 gallons of potable water to customers in 2017 with no ADH violations, the Industrial Park elevated water tower was renovated costing $296,000, the Waste Water Department treated and discharged 158,194,000 gallons of waste water in 2017 with no ADEQ violations, the Street Department became part of the Asphalt Management Team in 2017--allowing the city to have all streets assessed and recorded for future maintenance needs--the Sanitation Department uses four major pieces of equipment to provide sanitation services with the equipment being valued at $635,000, the Parks Department plays a major role in the Tree City USA program with all tree planting and maintenance, and the operating budget for the Public Works Department is $3.19 million.