Junior Lady Wildcats cruise to win over Bay
Thursday, November 8, 2018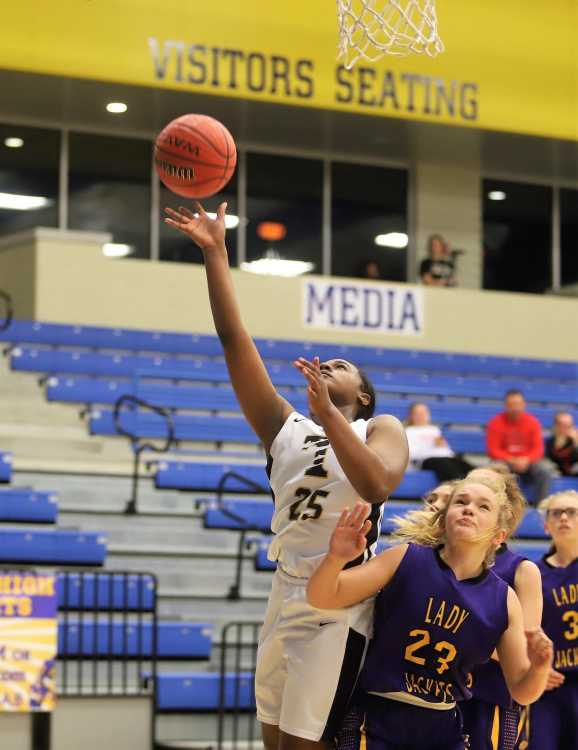 Trumann got 16 points from Kayde Jones and 13 points from Nygeria Jones as the Junior Lady Wildcats cruised to a 46-13 win in their opening round game of the Jack Moore Invitational junior high tournament being played at Blazer Arena in Valley View.
Kayde Jones scored the first four points of the game as she hit one of two free throws, scored inside and again hit one of two free throws to make it 4-0 Trumann as Bay called a time-out. Jaidyn Chappell hit a jumper in the lane and followed with a three-pointer for the Junior Lady Wildcats making the score 9-0 Trumann with 2:26 left. Kayde Jones scored off the fast break before Nygeria Jones scored back to back layup off the fast break to push the Junior Lady Wildcats' lead to 15-0. Bay got the board with one of two free throws with 42 seconds left as Kayde Jones scored inside to make the score 17-1 Trumann after one.
The Junior Lady Yellowjackets scored the first point of the second quarter hitting one of two free throws only to see Trumann score the next seven points as Dajunique Jones drilled a three-pointer as Nygeria Jones stuck back in offensive rebound and scored inside to make it 24-2 Junior Lady Wildcats. Bay hit a runner in the lane before the Junior Lady Wildcats ended the quarter on a 13-0 run. Kayde Jones hit a jumper in the lane, Nygeria Jones got a steal and layup before converting an old-fashioned three-point play, Kayde Jones got a steal and layup followed by a basket inside before finishing the run with a stick back basket to make it 37-3 Trumann at the half.
Full game article in November 8 PCDT!