Miners down Trumann in opening round of state playoffs
Thursday, November 15, 2018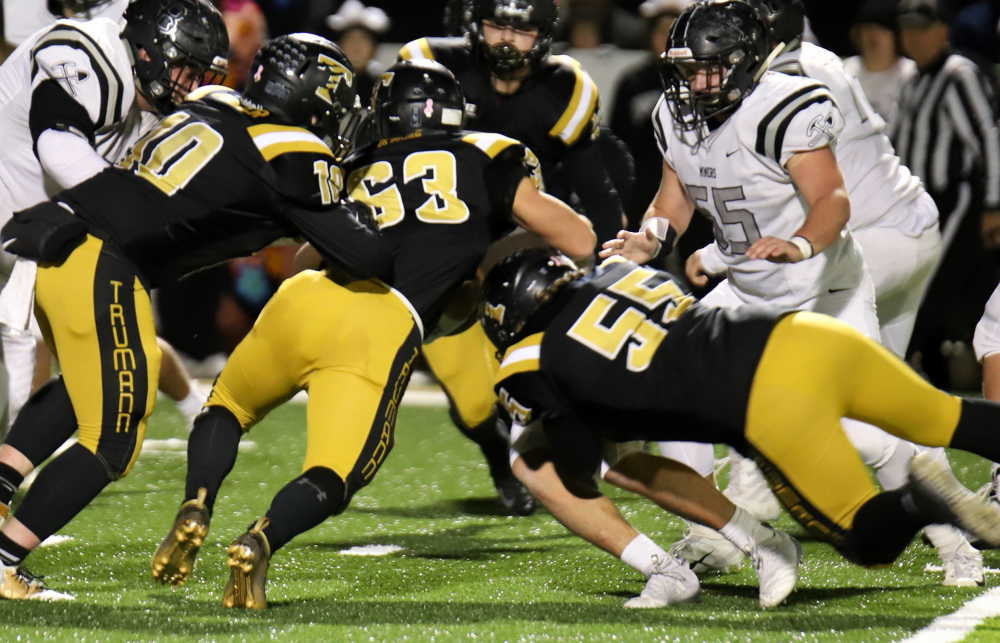 Bauxite (9-2) used a potent ground game and a hard-nosed defense to take a 21-6 win over Trumann (7-4) this past Friday night in the first round of the Class 4A state football playoffs at RMC Stadium in Trumann. The win sets up a re-match with conference foe Nashville on November 16.
Dawson Dabbs gained 18 yards on first down for the Miners before Seth McDowell ran for eight yards. Eeson Sandage ran for four yards before Dabbs gained a yard to give Bauxite a first down on his own 37-yard line. Dabbs ran for no gain before Sandage picked up 12 yards to the Trumann 25-yard line with 9:38 left. McDowell gained three as Dabbs churned out 11 yards to give the Miners a first down. Sandage picked up a yard before Noah Milligan dropped Dabbs for a two yard loss. McDowell's pass to Dabbs netted two yards to make it fourth and nine from the 10-yard line. Turner Southard booted a 27-yard field goal to giv Bauxite the early 3-0 lead. Milton Lewis, III returned the ensuing kick-off out to the Trumann 30-yard for the Wildcat's next possession. Will White rushed for four yards as Milligan followed with a two yard run. White gained 10 yards to give the Wildcats a first down as Jay Morgan and Milligan picked up zero and two yards on the next two plays to make it third and eight with 3:43 left as the Miners called a time-out. White picked up four yards followed by Morgan's nine yard run on fourh down to give Trumann a first down at the Bauxite 39-yard line. Milligan picked up two yards as White was stopped for no gain before White hit MJ Barnes with an 11 yard gain as the first quarter came to a close with Bauxite up 3-0.
Facing fourth and two to start the second quarter, Bauxite tackled Milligan for a yard loss as Trumann turned the ball over on downs at the Miners' 32-yard line. Dabbs ran for three years, McDowell picked up two yards before Elijah Cruz gained seven yards for a first down. Dabbs had runs of three and 13 yards before Milligan dropped Dabbs for a two yard loss at the Trumann 42-yard line with 9:12 left. Bauxite ran a speed sweep with Cruz who pulled up to throw a pass to a wide open Braylon Walker who could'nt come up with the catch. McDowell found Cruz for a 12 yard gain and a first down at the Wildcats' 30-yard line on the next play. Dabbs ran for five yards as Sandage picked up four yards before McDowell rusothed for four yards and a Bauxite first down. Motion on the Miners put the ball on the Truamann 22-yard line as McDowell lost a yard on his run. Sandage ran for three yards before Zack Lasage took a screen pass from McDowell and ran 20 yards for a touchdown only to have a holding call negate the score and put the ball on the Wildcats' 20-yard line. McDowell's pass to Hunter Davis was incomplete before Southard kicked a 37 yard field goal for the Miners making it 6-9 Bauxite with 5:05 left in the half. Lewis returned the Bauxite kickoff to the Miners' 43-yard line as Morgan had back to back runs of one and minus yards. White thrid down pass fell incomplete as Trumann had to punt. Morgan's punt was downed at the Bauxite 19-yard line with 3:13 left andd the Miners still leading 6-0. Dabbs carried the ball four straight time for runs of two, two, seven and three yards to the Bauxite 33-yard line before McDowell picked up a yard. Dabbs picked up four yards on third and six as the Miners had to punt the ball back to Trumann. The Miners got a great roll on the punt as it was downed on the Wildcats' four-yard line with 26 seconds left in the half. White gained a yard on first down as Trumann let the clock the run out as Bauxite took a 6-0 lead into halftime.
Complete game story in November 15 edition of PCDT!