AGFC gives update on Lake Poinsett Project
Friday, November 23, 2018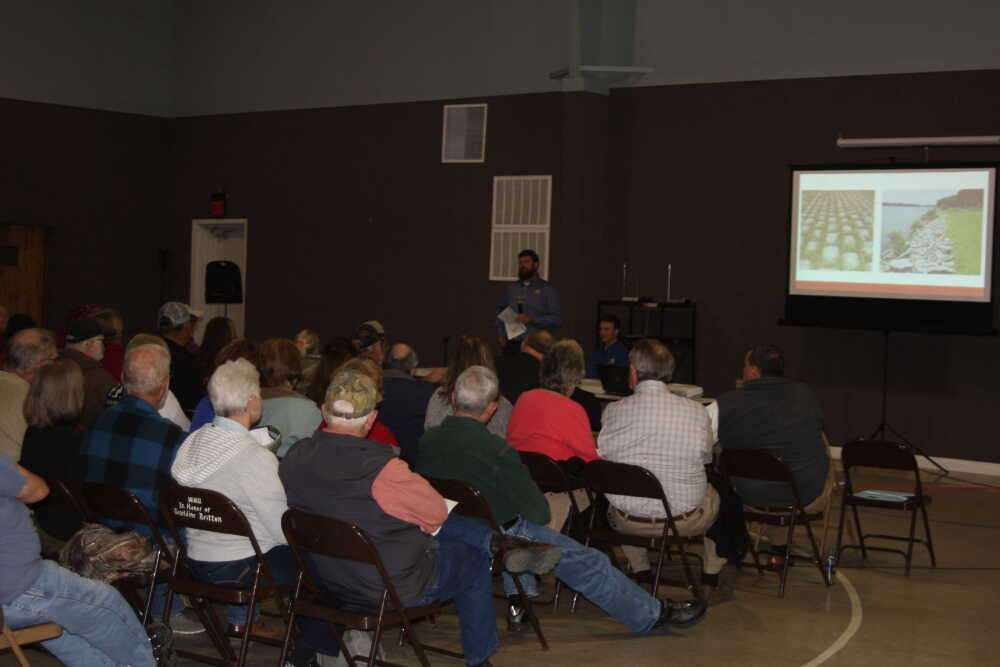 The Arkansas Game and Fish Commission met with a packed room of community members to give an update on the status of Lake Poinsett last week. Ben Batten, AGFC Chief of Fisheries, told those gathered that the project is a priority up to the highest level of AGFC and that they have already spent half a million dollars.
"A year ago, we told you Lake Poinsett could be 2-4 years without water. We're still on that timeline. That has not changed," Batten said. "I know this is tough on the state park, but the lake is going to be great when it's finished."
Batten went over some background with the lake project. He said the parts they are working on renovating have a lifespan of about 50 years, adding that the dam was 56 years old last year. Batten said the water control structure's gates were rusted, the outflow pipe was damaged in places, and that bank erosion also needed to be addressed. Regarding the water control structure, Batten said, "At some point, one of these pieces was going to give, and the lake would drain on its own. That's why we came to you."
Batten added that there has been a lot of speculation on what AGFC is or isn't doing with the lake since they haven't met with citizens since last year. Batten took responsibility for the lack of communication and promised that going forward, they would have a public meeting every six months until the project is complete to keep the public updated.
So far, a lot of behind the scenes work has been going on. Batten said they have spent half a million on engineering, have been moving concrete materials, made a parking lot for the construction equipment, and put out bids for the Phase 1 construction work--which were opened the next morning, Nov. 9. He said the U.S. Geological Survey has done assessments of the dam and that this work had to be done in phases while the lake was full, while it was draining, and while it was dry. The result of the survey was that the dam is functioning as designed and would not need repairs.
Batten said with the engineering and design phase complete, the project can move into Phase 1, which involves demolition of the old water control structure, construction of a new water control structure, repairs to the outflow pipe and outflow head wall, regrading of the emergency spillway, and slightly increasing the height of the dam. The new water level will be 305 msl (mean sea level). That level will be maintained year round, so there will be no more varying water levels between a summer and winter pool.
Batten said he expects construction work to start in early 2019 and that the contract stipulates the work must be completed by June 20 of 2019. Additionally, the AGFC Wildlife Management Division will cut a 20 foot wide fire break around the lake, and the Harrisburg High School EAST Lab and football team are assisting the team in charge of building fish habitat.
Phase 2 of the project will involve shoreline stabilization. The bank has been broken up into 21 sections that need work. This totals 18,000 linear feet, or 3.4 miles. Lake Poinsett's shoreline is six miles total. Shorelines will be resloped and hardened using a combination of flex-a-mat and rip rap. Batten said shoreline stabilzation work is on pace to begin in early 2020 and finish by the end of 2020.
After that work is complete, the lake will be stocked with catchable channel catfish first, followed by bream, bass, and crappie. The catfish will give anglers something to catch while the other fish grow to catchable size, which takes one to two years. "We've done this at a bunch of other places," Batten said. "It's frustrating while it's going on, but it's worthwhile."
The money for Phase 1 of the project has already been approved and is in AGFC's budget. Batten said the money for Phase 2 has not been approved yet, but should be approved in June when AGFC goes over the budget for the next year. Batten said the next public meeting in Harrisburg will be in late June or early July after that budget meeting.