Christmas parades set
Friday, November 30, 2018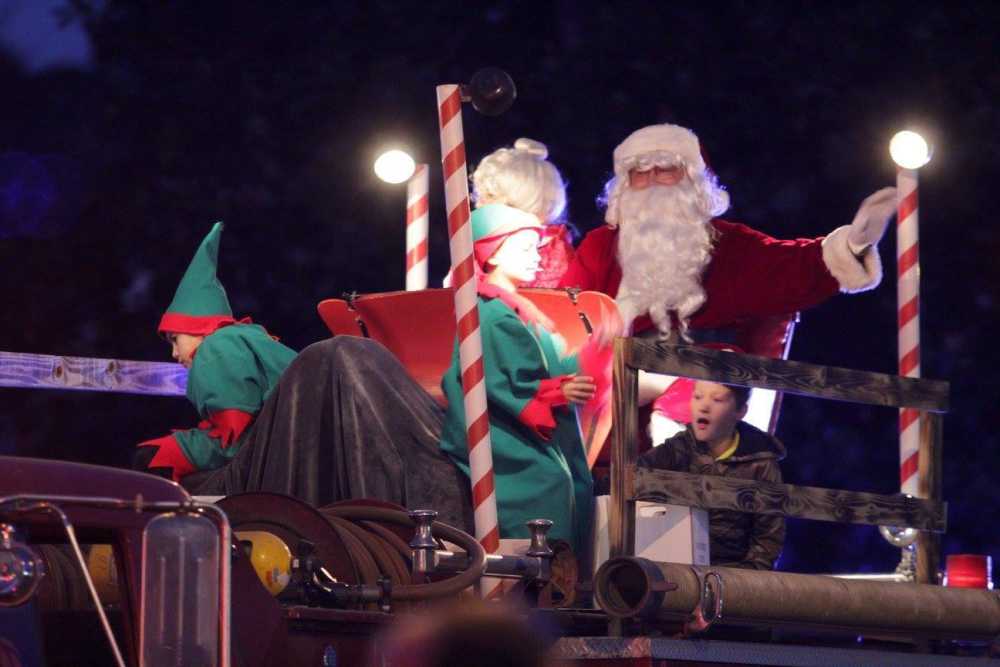 Christmas parades are coming up, with the first ones beginning this weekend.
Harrisburg begins first with a Christmas tree lighting in Veteran's Park at 6 p.m. on Friday, Nov. 30. The Community Carolers will sing, and hot chocolate will be served. At 6:30 p.m., First United Methodist Church will have a live nativity. There will also be a drawing for $50 in Harrisburg Bonus Bucks for those who attend.
There will be two Christmas parades on Saturday, Dec. 1. Harrisburg's will be at 5 p.m., and Marked Tree's will be at 5:30 p.m.
Prior to Harrisburg's parade on Dec. 1, there will be a Community Open House from 1-4 p.m. at the following businesses: Backstreet Florist, Gray's Attic, My Deals Direct Tools, The Green Frog, and Harrisburg Family Eye Clinic. All will have punch cards, and a card that's been punched at every business can be entered into a drawing to win $100 in Bonus Bucks.
Harrisburg parade lineup will be from 4-4:30 p.m. downtown. Joe and Rachel Lacy will be Grand Marshals. The parade will begin downtown and end at the Fine Arts building, where the Harrisburg Chamber of Commerce will give away ten $100 prizes of Bonus Bucks, a $200 gift card from Food Giant, and a $1,000 grand prize. Awards for floats will also be given out. Full-size float prizes are $500 for first, $300 for second, and $200 for third, all in Bonus Bucks. Mini float Bonus Buck prizes are $200 for first, $150 for second, and $100 for third. Prizes for the home decorating contest, within a six-mile radius of town, are $200 for first, $150 for second, and $100 for third. Antique cars and hot rods will receive trophies for first, second, and third place. Harrisburg Bonus Bucks can be used at any Harrisburg business. Anyone wishing to enter the parade or decorating contest should call 870-578-4104, email harrisburgchamber2015@gmail.com, or leave a message on the Harrisburg Chamber facebook page.
Also on Dec. 1, the Marked Tree Fire Department is partnering with First Baptist Church and the police department to host a tree lighting ceremony with caroling at the park on the northwest end of Frisco Street. The tree lighting will begin at 4:30 p.m. Marked Tree's Christmas parade will begin at 5:30 p.m. Lineup will start at 5 p.m. on Hester Parker Drive by First Delta Bank. Parade participants should come in the back way to Hester Parker Drive by turning down Riverside Drive by Vaughn Ford.
Trumann's Christmas parade will be at 6 p.m. on Tuesday, Dec. 4. This year's theme will be "The Songs of Christmas." A first place prize will be awarded to the best float. The Cub Scouts were last year's winners. Lineup begins at 5 p.m. in the parking lot of the old Price Chopper on Highway 463 North. The parade route will proceed south on Highway 463 to Trumann Plaza at 505 Highway 463 South. Anyone wishing to participate should call the Trumann Chamber of Commerce at 870-483-5424 or the Trumann Municipal Complex at 870-483-5355. Parade rules are online at trumannchamber.org.
On Thursday, Dec. 6, Tyronza will have a lighting of the trees by the service road at 6 p.m. Tyronza's Christmas parade will be at 6 p.m. on Friday, Dec. 7. Lineup will be on School Street between the school and A&A Foodstore. The parade route will be down Main Street and will end at the Senior Center, where there will be hot chocolate, cookies, and a chance for pictures with Santa Claus. There will be a float contest with prizes of $75 for first place, $50 for second, and $25 for third. The theme for the parade is "Christmas Is..."
Lepanto's parade will be at 5 p.m. on Saturday, Dec. 8. This year's theme is "What does Christmas mean to you?" Lineup will begin at the old day care at 4:30 p.m. John Henderson will be grand marshal. Anyone wanting to be in the parade can call 870-636-9259.